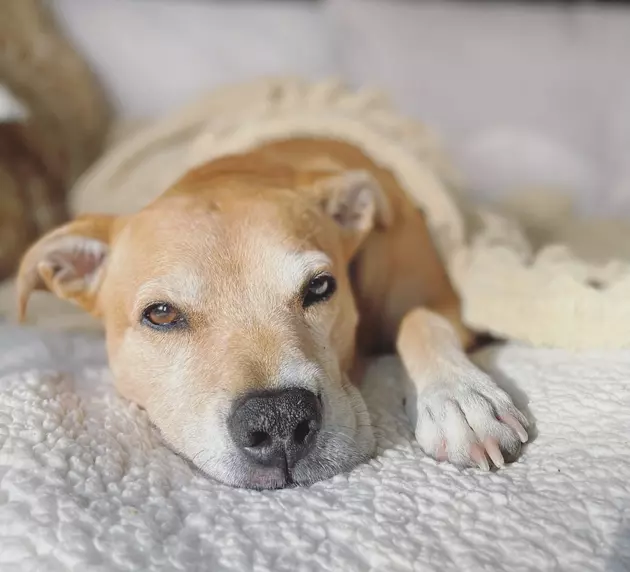 Amanda is Our Pet of the Week on Wet Nose Wednesday
"Amanda"/HSWM
Brianna from the Humane Society of West Michigan wasn't able to come into the studio yesterday morning but we talked on the phone about Amanda!
This perfect pup is SO photogenic, we're pretty obsessed with her–we think she'd make a wonderful social media star! Amanda, Mandy, or Candy, is up for adoption and ready to find her furever home! This perfect caramel-colored girl loves blankie snuggles, playing, Mc Donald's dollar cones, walkies, and though she'd prefer to be the only dog in your home, she LOVES her kitty foster sister! If you're looking for a pup just as sweet as her nickname, Amanda is your girl!
To learn more about Amanda, please visit our website at hswestmi.org/adoptabledogs
Low-Cost Vaccine Clinic for Medical Professionals
We are SO grateful for all of the medical professionals who have been putting in their all to keep us safe and healthy during COVID-19--and we'd like to do something to thank them for all of their hard work!
To show our appreciation we are offering a low-cost vaccine clinic this upcoming Monday, January 31st from 12:00-4:00pm to all of the medical professionals with pets they love! All you need to do is bring a badge to prove that you work in the medical field, and we'll take care of your fur babies for you!
Spots are limited, so please sign up to reserve an appointment for the January 31st slot ONLY on our website at hswestmi.org/vaccine-clinics
THANK YOU for supporting us for the #BettyWhiteChallenge!
Last week we celebrated Betty White's 100th birthday by asking you all to donate to a rescue organization that's near and dear to your hearts, in honor of her love for animals.
We were absolutely BLOWN AWAY by the response we received from this community--raising over $17,000 to care for pets in need in West Michigan!! Even crazier, there was such an outpouring of love and generosity that shelters ALL over the country have raised MILLIONS of dollars donated in her name! This is only possible because of people like you, who were touched by Betty's warm heart, quick wit, and who gave to help carry on her long legacy of animal advocacy.
We think she would have been SO proud to know how the whole nation united on her birthday to give to animals in need, thank you to EACH and EVERY person who donated to HSWM and the pets in our care! Thank you for being a friend Betty--you may be gone--but you are far from forgotten.
Freaking Out Fido
Is your dog sensitive to noise? Clings to you like Velcro? Afraid of people new places, the car, etc? Then you should sign up for our Freaking Out Fido Seminar!
Learn how to recognize the subtle and not-so-subtle ways your dog is trying to say help me! We explain methods of calming your dog and ways to teach him to be brave. This is a practical guide for you and your freaking out Fido! Our next seminar will be held next Saturday, February 5th, from 1-4pm.
PLEASE NOTE: Due to a recent lack of consistent interest, we have changed the way we will be hosting this seminar! We need a minimum of two participants to run the seminar, which we plan to hold on the first Saturday of every month. When/if we receive enough interest we will reach back out to update you. Please sign up through our website at hswestmi.org/seminars
Please visit www.hswestmi.org to view profiles and learn more about adopting!
LOOK: Here Are 30 Foods That Are Poisonous to Dogs
To prepare yourself for a potential incident, always keep your vet's phone number handy, along with an after-hours clinic you can call in an emergency. The ASPCA Animal Poison Control Center also has a hotline you can call at (888) 426-4435 for advice.
Even with all of these resources, however, the best cure for food poisoning is preventing it in the first place. To give you an idea of what human foods can be dangerous, Stacker has put together a slideshow of 30 common foods to avoid. Take a look to see if there are any that surprise you.
More From 100.5 FM The River