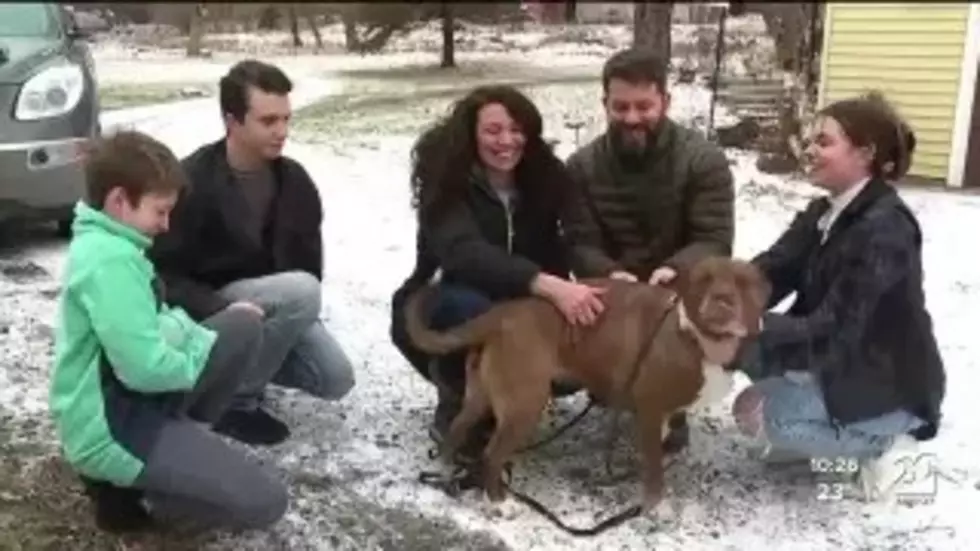 Michigan Dog Lost for 6 Months is Home – Was It A Christmas Miracle?
Fox17/WXYZ
Tawny the dog had been lost to a family from Ingham County for over 6 months and it seemed hopeless that they would find her. But, a Christmas miracle really did occur as Fox17 reported. Tawney is back home.
This is the story of the Campos family, who, 6 months ago, dropped Tawny off at a kennel to take care of her while they went on a vacation to Traverse City.
But that vacation didn't turn out the way they had hoped when they got a call from the kennel saying Tawny was missing. They thought she had been spooked by fireworks, after all, it was around the 4th of July, and she scaled an eight-foot high fence, no easy feat.
So Pablo and Andrea Campos and family raced home to begin their search. Nothing turned up. They were going door to door, putting notices on social media, checking shelters, and still no sign of Tawny.
Flash forward to today, and the Campos family gets a call from a place in Livonia, 60 miles away. There was this dog, the caller said, that had been living behind the post office for some time. The postal workers were feeding her but began to worry as the season changed and it was getting very cold. So, they set a trap so that they could catch her and hopefully find her owners.
It worked as she walked into the cage/trap for food and the door shut. They had her. They decided to see if she was microchipped and had her scanned. She was, and it led them to the Mosaic Animal rescue and a friend of the Campos family.
What a happy ending, and just in time for Christmas. If it weren't for the loving efforts of the Livonia Post Office workers this might not have ended happily.
It was a Christmas miracle!
LOOK: Here Are 30 Foods That Are Poisonous to Dogs
To prepare yourself for a potential incident, always keep your vet's phone number handy, along with an after-hours clinic you can call in an emergency. The ASPCA Animal Poison Control Center also has a hotline you can call at (888) 426-4435 for advice.
Even with all of these resources, however, the best cure for food poisoning is preventing it in the first place. To give you an idea of what human foods can be dangerous, Stacker has put together a slideshow of 30 common foods to avoid. Take a look to see if there are any that surprise you.
More From 100.5 FM The River