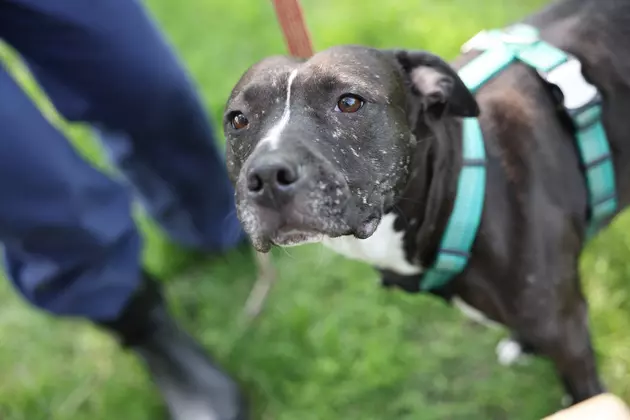 Looking for a Dog to Add More Love to Your Family? Meet Kimmy!
HSWM
Meet Kimmy Gibbler! This sweet girl has been the Humane Society's care longer than any other pet, she came to them LAST April, so over a year ago, and after waiting patiently for over 400 days, we aren't sure why she hasn't been adopted yet!
Kimmy is the best girl, well-behaved and loyal, and the *queen* of playing fetch. She will play fetch for as long as you let her! Her positive attitude is absolutely infectious and we can't get enough of this happy lady.
Kimmy is also a total cuddle bug, she's so sweet, loves to snuggle, and even likes kids! She's spending her days in a foster home, but it's really sad that she hasn't found her forever home yet, so please help us find Kimmy a family to call her own!
You can adopt Kimmy Gibbler by going to our website and filling out an adoption survey for her at hswestmi.org/adoptabledogs
Creston Brewery Adoption Event
If you love dogs and drinking, then we've got GREAT news for you!
We're thrilled to announce we're hosting a Pups & Pints adoption event at the the Golden Age upstairs event space at Creston Brewery on Thursday, June 8th from 4-8pm!
We'll be bringing our Pet Supplies Plus Adoption trailer full of adorable adoptable pets for you to hang out with, all while enjoying a cold beer with friends. Stop by for a pint, and maybe to meet your new best fur-iend!
HSWM is turning 140 in a month!
Can you believe we've been in the West Michigan community serving pets in need for 140 years?!
HWSM was organized in 1883 by a group of citizens who wanted to help abused, neglected, and homeless animals. This compassionate group housed the animals in their homes and vet clinics until the first shelter was built in 1944, and we've been growing and improving ever since.
Help us celebrate our 140th Birthday Party on June 25th, from 11am to 3pm! This family-friendly event will feature games, a bounce house, face painting, and of course, cake and ice cream. It's just about one month away, so grab your tickets today at https://www.hswestmi.org/birthday.html
Petco Love Lost
As the weather warms up, we're spending more time with our pets outside, and as we do, the chances of them getting lost increases as well.
Losing a pet is one of the worst things that can happen to a pet parent, so HSWM and Petco Love Lost are here to help reunite pets and their people! We partner with Petco Love Lost to automatically upload pets brought to us as strays to their website, and encourage you to post your lost and found pets there too to help them find their way back home.
Found or lost a pet? Search their database today at https://lost.petcolove.org/
KEEP LOOKING: See What 50 of America's Most 'Pupular' Dog Breeds Look Like as Puppies
More From 100.5 FM The River