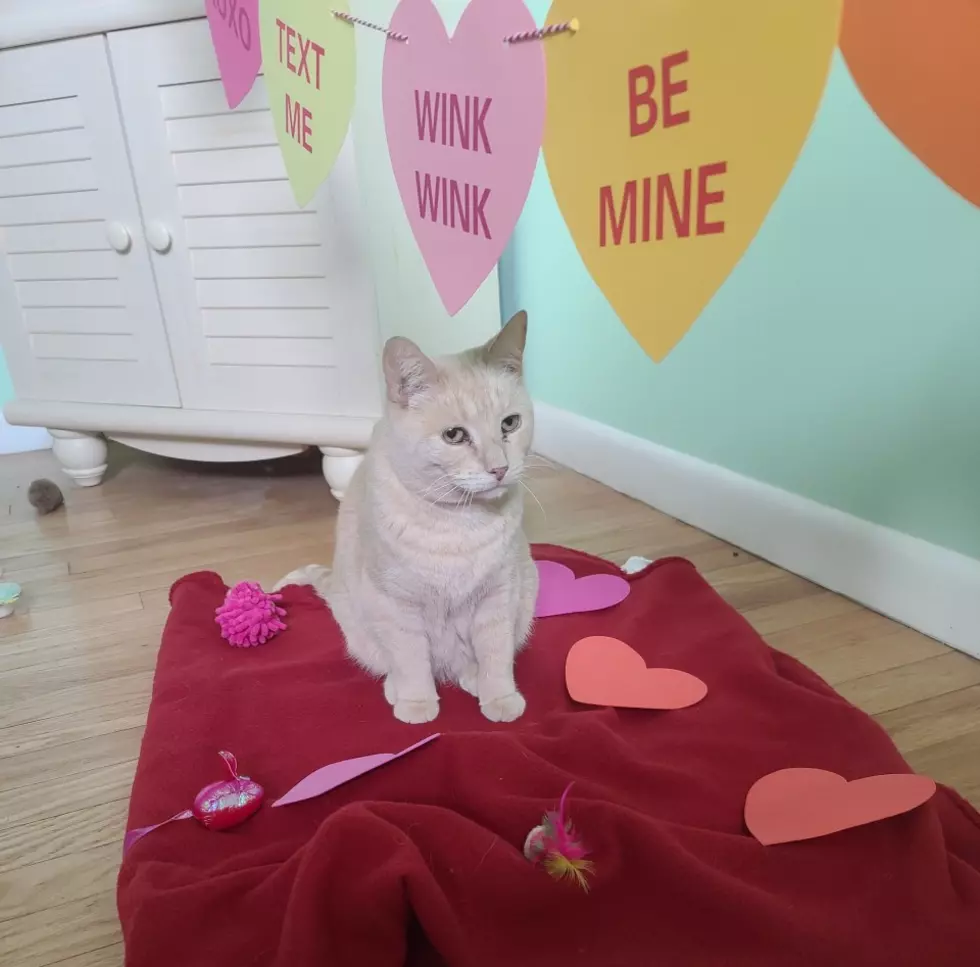 Need Some Extra Love this Valentine's Day? Sunrise is Your Answer
HSWM
If you need a Valentine this February, look no further than cream-colored Sunrise!
Sunrise is just as pretty as the beautiful morning colors she's named after. Her life may have started out rough, but since she came to HSWM, her mornings are much brighter! She loves being petted and rubs on her foster mom all the time for affection.
Laser pointers are her favorite toys, and she'd do great in a home with another cat. There is also a dog in the house that she's fine with, as long as he doesn't chase her! Sunrise's wish is to be adopted by a chill family that has a quiet environment for her to keep learning and blossom into the kitty I'm meant to be. Could you make her dream come true?
Learn more and apply to adopt Sunrise on our website at www.hswestmi.org/adoptablecats
ALL Valentine's Day Adoption Specials!
Can there be too much of a good thing? When it comes to Adoption Specials, we don't think so! If you're ready to fall in love with a shelter pet this Valentine's Day, stop by HSWM to take advantage of Bissell's Empty The Shelters, Adopt Your Valentine Event!
Thanks to generous sponsorship from BISSELL Pet Foundation and Cathy Bissell, from Feb 9th to the 15th, all of the adult dogs and cats in our care will be just $50 to adopt. Not only that, but our Long-Stay Love Adoption Special is still going strong, meaning all senior and long-stay pets will be fee-waived too! If you're thinking about adopting a shelter pet, there's no better time than now!
Visit our website to view all of our adoptable pets at www.hswestmi.org/adoptableanimals.html
Help Support Dogs Seized from Norton Shores
This past week HSWM was notified of a home disguised as a 'rescue' that had dozens of animals living in terrible conditions. It was so much worse than responders expected.
There were nearly 80 dogs living in a tiny home and shed. They were living on top of each other, on floors that had rotted through from all of the urine and feces that had soaked in. The home was so bad it was deemed unlivable by building inspectors after the removal of all of the dogs. We have partnered with other local animal welfare groups to take in a portion of these dogs, but as the investigation is ongoing, we have no idea how long they will be with us, or what their medical needs will be.
We do know they have a long road ahead of them, and are committed to keeping them safe, healthy, and loved until they are able to find their forever homes--but we need your help. Please give what you can to help support these pets on their road to recovery! Please give through our website at hswestmi.org/give, or through our Facebook page at https://www.facebook.com/donate/8751121361627054/
HSWM on the Puppy Bowl Pre-game
The big game is nearly here! No, we don't mean the football game–there's another    fur-ocious competition to tune into this Sunday, Feb 12th--The 19th Annual Puppy Bowl!
If you're planning to watch, make sure to tune in to the Puppy Bowl pregame show starting at 1pm on Animal Planet, Discovery Channel or TBS, OR if you're planning to stream this year's Puppy Bowl, you can do so through HBO Max or Discovery+. We can't say *too* much, but keep an eye out for a few familiar names and faces ahead of the showdown between teams Ruff and Fluff!
Why do cats have whiskers? Why do they meow? Why do they nap so much? And answers to 47 other kitty questions:
Why do they meow? Why do they nap so much? Why do they have whiskers? Cats, and their undeniably adorable babies known as kittens, are mysterious creatures. Their larger relatives, after all, are some of the most mystical and lethal animals on the planet. Many questions related to domestic felines, however, have perfectly logical answers. Here's a look at some of the most common questions related to kittens and cats, and the answers cat lovers are looking for.
More From 100.5 FM The River