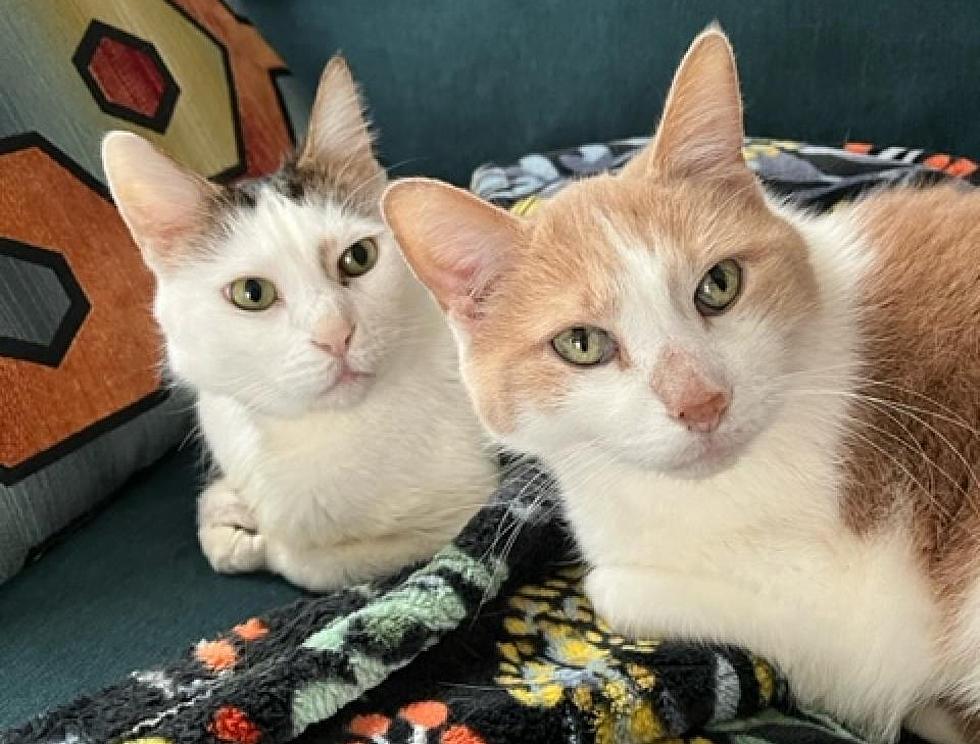 Two Best Friends Are Looking for a Loving Home. How About You?
HSWM
Meet two BEST feline friends who do everything together, Sandy and Charlie!
Sandy–the white and buff cat–is the soft and reserved kitty of the pair, who likes to snuggle and sit on laps, and get lots of pets and attention. Charlie–the mostly white kitty with the dark brown ears–is the adventurous and outgoing one who likes to play and talk to his people! Both of these boys get along well with other animals, but more than anything they love each other, so they're hoping to find a home to go to together ASAP!
To learn more about Sandy, Charlie, and the other adoptable pets in our care, visit our website at www.hswestmi.org
Paws, Claws & Corks Fund the Mission Pet
Join us for the 11th annual Paws, Claws & Corks this month on Wednesday, March 15th, 2023, at the DeVos Place Steelcase Ballroom!
Attendees will have the opportunity to sample tastes of Grand Rapids' best and bid on exciting packages in our auctions. Most importantly, all funds raised will benefit the mission and pets of Humane Society of West Michigan, like Finn! Finn is a brave little puppy that came to HSWM in extremely bad shape and spent months with us recovering and winning over the hearts of our staff and fosters. To hear his story, see where he is now, and even meet the handsome pup himself, grab your tickets today!
Sponsorship details, ticket sales, volunteer opportunities, and more are all available at www.pawsclawsandcorks.com
Urgent Fosters Needed!
Despite our best efforts, John, Britney Ears, Ultred, Mimi, and Cookie have been lingering in our shelter--becoming increasingly restless and miserable in their kennels, waiting for months to find families with no success--and they deserve a BREAK!
Though we try to make their stays with us as comfortable as possible, the shelter environment is nothing like being in a home, and as time goes on, it's really hard to watch our longest-term residents get more and more stressed. ALL of these dogs are wonderful companions, they're sweet, snuggly, and love to play, but all of them need to go to homes where they are your only pet, and many would prefer to live with just adults or teens. Visit our website at hswestmi.org/adoptabledogs to learn more about each of these pups to see if one might be a good fit for you to foster--even for just a day or two!
We will provide you with all of the supplies and staff support you could need, including access to our behavior specialist, and will take every step imaginable to set you and these dogs up for success. Please email foster@hswestmi.org if you're interested in taking on one of these perfect furbabies, and we'll expedite the process to get them out of the shelter and into your home ASAP!
Save the Date for our next Kitten Shower
Save the date for the cutest baby shower you'll attend all year--our Kitten Shower, Bottle Baby Bash!
We're kicking off kitten season with a BIG party to celebrate and support all of these little lives! This party will help us raise funds, collect much-needed donations, and raise awareness about kitten season and what it entails. We'll have fun games, a raffle, drinks, delicious donuts from Olly's Donuts, kittens to cuddle, and more!
Stay tuned for more details on our social media platforms!
Why do cats have whiskers? Why do they meow? Why do they nap so much? And answers to 47 other kitty questions:
Why do they meow? Why do they nap so much? Why do they have whiskers? Cats, and their undeniably adorable babies known as kittens, are mysterious creatures. Their larger relatives, after all, are some of the most mystical and lethal animals on the planet. Many questions related to domestic felines, however, have perfectly logical answers. Here's a look at some of the most common questions related to kittens and cats, and the answers cat lovers are looking for.
More From 100.5 FM The River