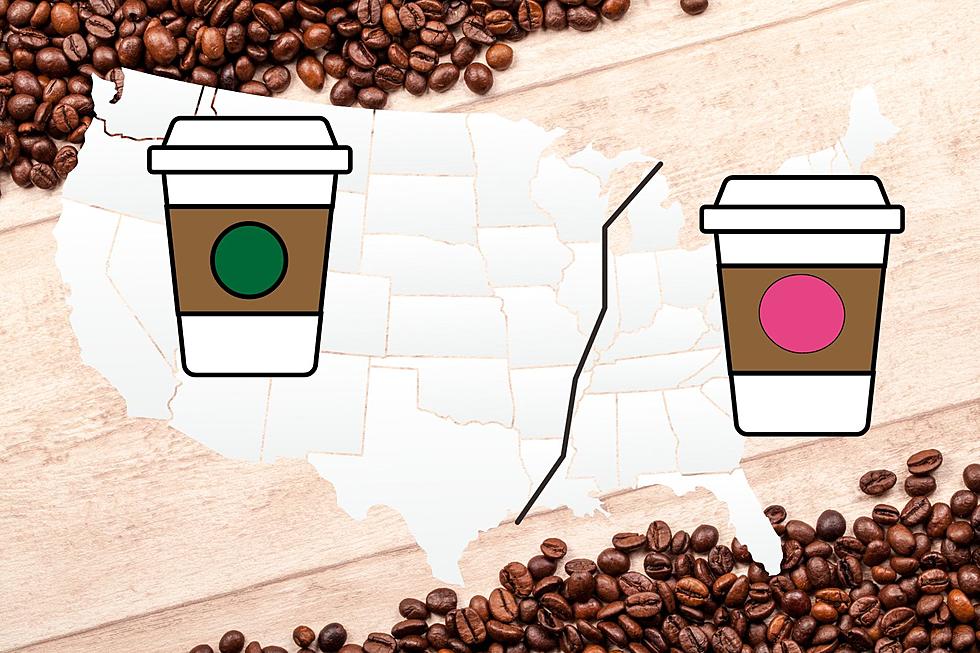 Michigan Is at the Dead Center of a Coffee Continental Divide You Never Knew Existed
Canva
Hear the term Continental Divide and you like have some image of the Rocky Mountain west. After all, that's the most common use of the term. The continental divide marks the location where water flows either west to the Pacific Ocean or east eventually to the Atlantic Ocean.
There's a north/south continental divide as well - it's just south of Michigan - that divides water flowing eventually to the Great Lakes/St Lawrence waterway to the north or to the Gulf of Mexico to the south.
Then there's the coffee continental divide. It marks the line between where you find more Starbucks franchise locations or more Dunkin' Donuts locations.
Michigan is directly at the heart of this divide.
The Starbucks/Dunkin' Divide
A map of the coffee clash was created for an article from Big Think and shared on the Strange Maps Facebook page.
The map shows the orbit of influence for Seattle-based Starbucks being the West Coast while Boston-centric Dunkin' owns New England and much of the east.
Michigan, along with several other states through the west-of-the-Appalachians but east-of-the-Mississippi swath are roughtly evenly divided between the two mega-coffee chains.
Michigan is America's Most Coffee-Diverse State
But what about Biggby's, you might ask. And you'd be correct to do so. Digging deeper into this county-by-county map crafted by Maptitiude shows that several of the nation's largest coffee chains have beachheads across the state.
No other state sees the variety of coffee options as Michigan. Around Detroit (along with other Canada-adjacent metros like Buffalo), Tim Hortons dominates. Just outside of Metro-Detroit where things are more than a little hoity-toity, it's Starbucks. The central part of the state, owning to Biggby's start in Lansing is owned by the homegrown beanery.
So no matter which side of the Starbucks/Dunkin' divide you fall on - or if you like a more homegrown option, rest assured that Michigan has a coffee shop perfect for you.
A chain like Biggby is well recognized in Michigan but virtually unknown beyond the state. Check out these other regional restaurant chains that you may need to travel for.
From coast to coast: The 20 best regional fast-food chains to try
From burgers to subs and even creamy milkshakes, these tasty fast-food chains, compiled by
Stacker
, are a must-try on your next road trip.
Gallery Credit: Kiersten Hickman
More From 100.5 FM The River