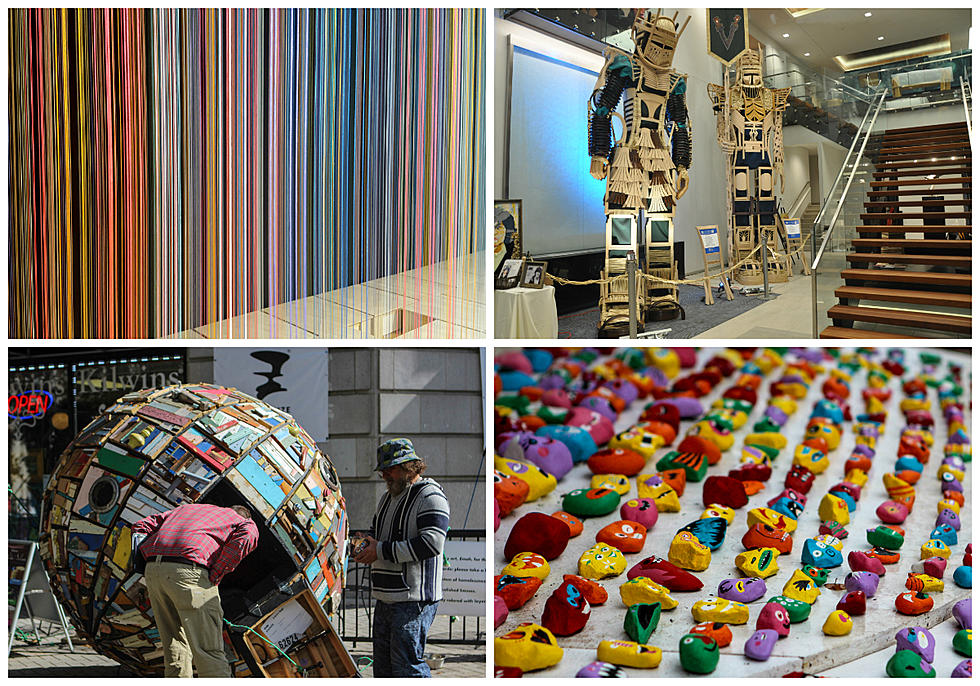 ArtPrize Public Vote Final 20 is Exactly What You Thought it Would Be [Photos]
Photo Credit: ArtPrize 2016
ArtPrize announced the Public Vote Final 20 today.
The results are mostly predictable.
Has the ArtPrize Public Vote jumped the trout? Maybe. The ArtPrize Eight finalists are similar to other years in many ways.
Most finalists from just a few venues? Check. Half of this year's Final 20 can be found at five familiar venues: The B.O.B., DeVos Place, Ford Museum, Amway and GRAM.
A giant pencil drawing? Check. Protect and Serve is 16 feet long and 7 feet tall. It uses pencil, water color and acrylic.
A repeat winner? Check. Robin Protz is back at ArtPrize for the fifth time. She finished 7th in 2013. Imagine If is at the Amway Grand Plaza.
A few redeeming qualities? Check. Sweeper's Clock at GRAM is a Time-Based finalist. It is also on the Jurors' Shortlist. SiTE:LAB's 250 prepared ac-motors, 325kg roof laths, 1.0km rope is another solid choice by the public.
It's become easy to identify trends in the public vote. Considering the amount of time it takes to truly explore ArtPrize and its 170 venues, these are trends that we are likely to see continue in the future. There's just not time to see it all.
I don't know if "art shaming" is a thing, but it's about to become one. I can't imagine the panel of art experts giving Trout Bike much of a chance at Monday night's Critical Discourse "Why These Finalists?"
Round 2 Voting will begin at 2PM today, October 2 and will run through October 6 at 11:59PM. Visitors can cast up to twenty votes, one per finalist. ArtPrize encourages visitors to consider voting for at least one entry in each category. The winners of both the public and juried awards totaling $500,000 will be announced on October 7​.​
Two-Dimensional: 

presented by Foremost

I

nsurance
Ashes to Ashes at The B.O.B. by Jacqueline Gilmore from Rockford, MI
Portraits of Light and Shadow at DeVos Place Convention Center by Joao Paulo Goncalves from Pompano Beach, FL
Continental U.S at Gerald R. Ford Presidential Museum by Valerie Hollstein from Salt Lake City, UT
Sand Sturgeon at Gerald R. Ford Presidential Museum by Gary Moran from New York, NY
Protect and Serve at The B.O.B. by Andrew J. Woodstock from Plainwell, MI
VICTORY at Homewood Suites by Hilton Grand Rapids Downtown & Jam'n Bean Coffee Company at the Waters Center by THE CHAIRMen from Centennial, CO
Wounded Warrior Dogs at Amway Grand Plaza by James Mellick from Milford Center, OH
Imagine If at Amway Grand Plaza by Robin Protz from New Hartford, CT
Invasive Species at Barnes & Thornburg LLP by Shiny Seed from Ann Arbor, MI
One Thousand Shacks at Urban Institute for Contemporary Arts (UICA) by Tracey Snelling from Oakland, CA
Installation: 

presented by Amway
Sweet Spot at Brush Studio by Causey Daniell Studio from Indianapolis, IN
Ditch Lily Drawing at Frederik Meijer Gardens & Sculpture Park by Nathan Lareau from Grand Rapids, MI
The Butterfly Effect at DeVos Place Convention Center by Pettit Smith from Durango, CO
Rock Around at Grand Rapids Children's Museum by Aaron Zenz from Spring Lake, MI
250 prepared ac-motors, 325kg roof laths, 1.0km rope at SiTE:LAB | Rumsey St. Project by Zimoun from Bern, Switzerland
Time-Based:

 presented by DTE Energy Foundation
Sweeper's Clock at Grand Rapids Art Museum by Maarten Baas from Den Bosch, North Brabant, Netherlands
Hoot at Courtyard Marriott Downtown by Laurel Bahe from Colorado Springs, CO
Higher Ground at Grand Rapids Art Museum by Hillerbrand+Magsamen from Houston, TX
Emoh: sculpture / time capsule & temporary home at Kilwins Chocolates & Ice-Cream @ McKay Tower- Rosa Parks by Loren Naji from Cleveland, OH
Trout Bike at Peppinos Pizzeria & Sports Grille by Andrew Rockwood from Traverse City, MI