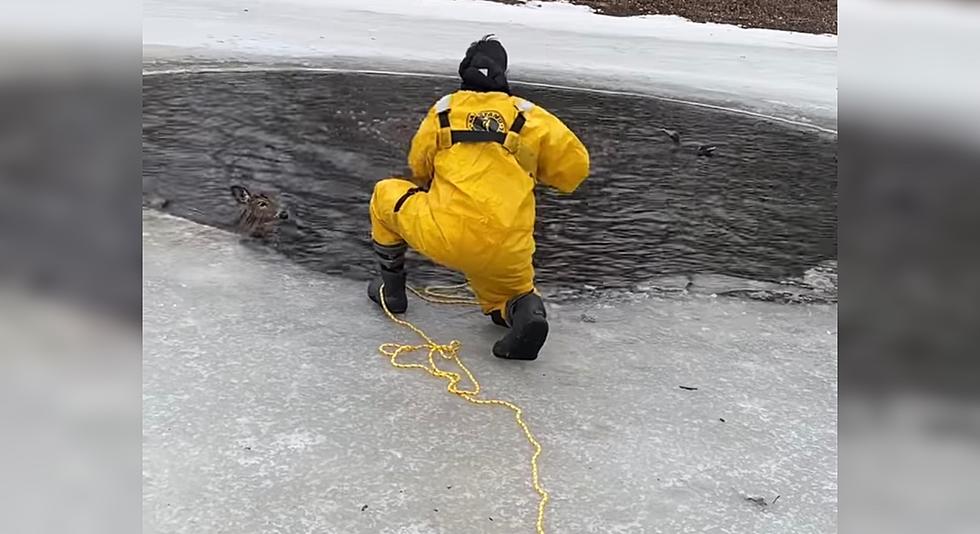 West Michigan Firefighters Rescue Doe From Icy Pond [VIDEO]
White Lake Fire Authority, Facebook
A young doe found herself in a scary situation this week, trapped in an icy pond. White Lake firefighters came to her rescue!
White Lake Fire Authority shared video of the ordeal to Facebook. It's a little hard to watch because that water must've been so cold, and the poor little deer was struggling so. But there is a happy ending, I promise!
Thanks to Lt. Nick Dubois and firefighters Rick Ware and Haddan Thomas who all suited up and worked together, they were able to haul the doe out to safety. White Lake Fire Authority says it took the deer a little bit to get her legs back under her, but she did eventually run off into the woods.
Apparently Lt. Nick Dubois also spear-headed helping a horse last month last month who had slipped on the ice and was unable to get up. In that incident, firefighters used a salvage tarp on the ground to give the horse traction and helped get him back on his hooves.
Great job, White Lake Firefighters!
Their dedication to helping animals in trouble is even more impressive when you consider how busy the department has been!
White Lake Fire Authority says they finished February with 92 alarms; it was their busiest February ever, with the exception of 2019 when they had 36 alarms in one day due to a storm. According to the department, last year was their busiest year ever, and they are already 39 alarms ahead of where they at the same time last year.
KEEP LOOKING: See What 50 of America's Most 'Pupular' Dog Breeds Look Like as Puppies
More From 100.5 FM The River