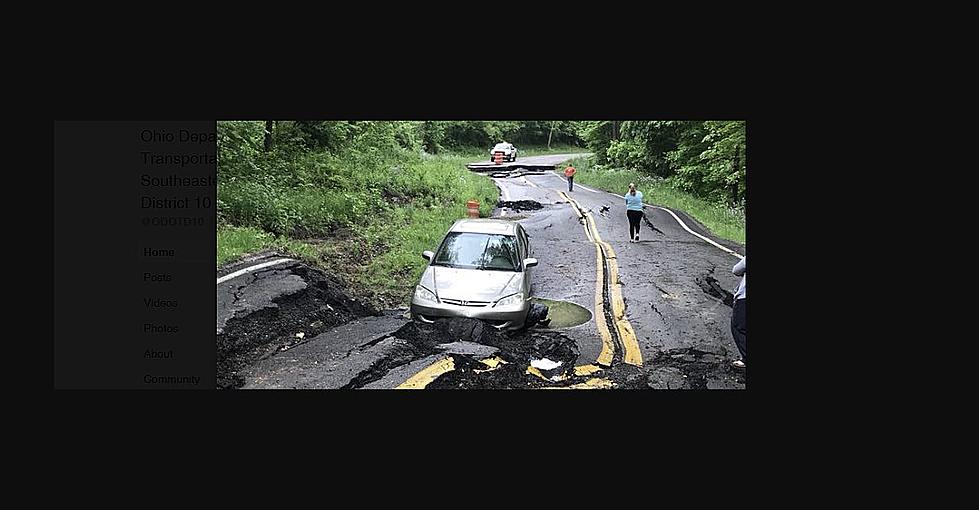 After Seeing This Ohio Can't Ever Say Their Roads Are Better Than Michigan's
Ohio Department of Transportation Southeastern Ohio District 10 via Facebook
There's a tired meme on social media about how much worse roads in Michigan are when compared to Ohio. Smooth pavement in the Buckeye state is said to become a pothole filled, gravelly-bombed minefield when crossing into Michigan.
But this photo from southern Ohio will throw all of that out forever.
The road shown below is Ohio State Route 83 which runs nearly the entire length of the state from the shores of Lake Erie south to almost the Ohio River and the Kentucky state line.
The image was taken in Washington County a few years ago and depicts a rural portion of the roadway which had been under construction for many months after a landslide closed a portion of the road.
Of course Michigan is no stranger to flooded roads but landslides would be a greater rarity here and much more an issue in the rolling hills of Southern Ohio.
And if you think that Ohio road is bad, Ron tipped us to this incredibly awful stretch of railroad in Ohio that looks like a trail could derail there anytime. Watch how slowly the locomotive has to take these tracks.
With any luck your travels won't take you on roads as unnavigable as those in Ohio. But the backroads of America are sure to reveal some interesting sites. Check these out:
Offbeat adventures: Travel to the coolest hidden wonders in every U.S. state
Fuel your offbeat travel dreams.
Stacker
found the coolest hidden wonders in all 50 U.S. states (plus D.C.) using data from
Atlas Obscura
.
[WARNING: Under no circumstances should you enter private or abandoned property. By doing so you risk bodily harm and/or prosecution for trespassing.]
Gallery Credit: Sandi Hemmerlein
More From 100.5 FM The River