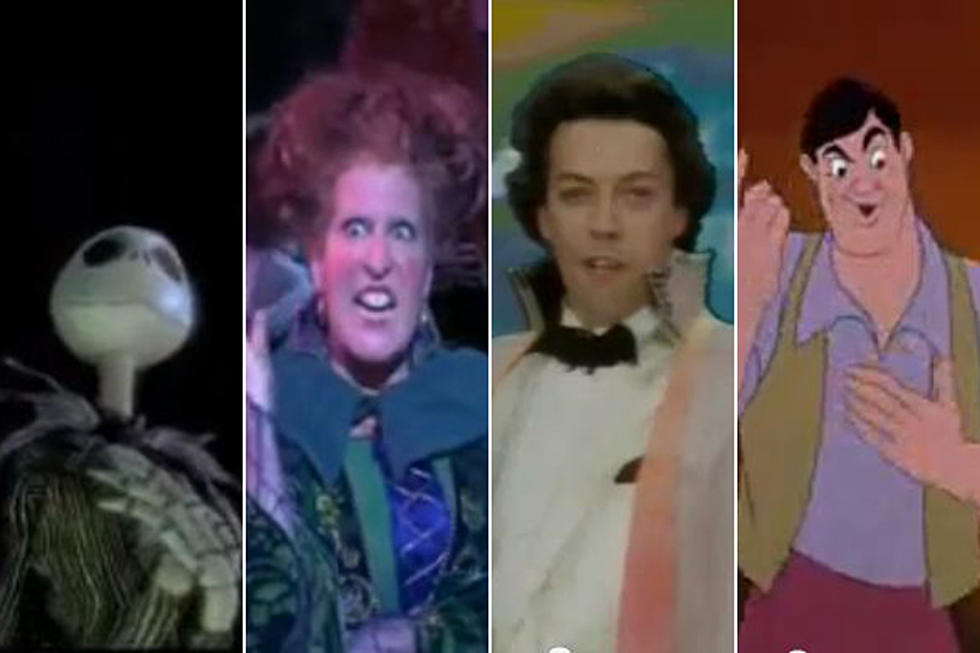 The Best Nostalgic Halloween Songs
YouTube
We're really getting into the Halloween spirit here at TheFW. It's nothing new -- it's always been one of our favorite holidays (right after Arbor Day). So, while we enjoying settling down with a good (bad) scary movie, sometimes we wax a little nostalgic. These are the songs from our childhood that really get us in the mood for trick or treating, which we're apparently too "old" to do anymore, unless our plan to dress up like a scary six-year-old finally works. Check them out, and let us know if we missed one of your favorites.
'Top That,' 'Teen Witch'
Oh, goodness. You were pretty much the coolest kid in school if you knew all the words to this now-embarrassing rap song. There's still time to learn. Study up!
'I Put a Spell On You,' 'Hocus Pocus'
'Hocus Pocus' -- the 1993 film starring Sarah Jessica Parker, Kathy Najimy and Bette Midler as witches -- one of the greatest Halloween movies ever made. Can we put it up there with 'Ernest Scared Stupid'? Yes, we can. And we do.
'Anything Can Happen on Halloween,' 'The Worst Witch'
If you've never seen this movie, we are so very, very sorry for you. And you probably will be soon too. This is the '80s low-budget film that filled the gap until Harry Potter came along with its "good screenplay" and "actual special effects." But you know what Harry Potter doesn't have? Tim Curry singing a sexy disco Halloween song.
'Cry Little Sister,' 'The Lost Boys'
We probably shouldn't have been watching this movie, but the presence of Coreys Feldman and Haim were enough to convince mom and dad that it was kid-friendly. We'd genuinely like to know how many kids became Goths because of this song. They are the best Goths in the world.
'Did You Ever See a Dream Walking,' 'Lady in White'
Uggggh, 'Lady in White' was so scary. Why? It had the lady from 'Who's the Boss' and the kid from 'Solarbabies.' It shouldn't have been so scary. But it was. Especially thanks to this song, which possessed the magical ability to make you feel like somebody was about to murder you. Thanks, Bing Crosby -- we didn't know you had it in you!
'This Is Halloween,' 'The Nightmare Before Christmas'
Just because it's obvious doesn't mean we aren't going to mention it. We aren't stuck up like that -- we've already admitted we couldn't learn all the words to 'Top That' because rap is hard for us. And you can't top the opening song from Tim Burton's stop-motion Halloween/Christmas classic. See what we did there???
'Time Warp,' 'The Rocky Horror Picture Show'
If nobody's around, nod your head up and down if you were a really nerdy theater kid in high school. This one's for you. Also, this Halloween is brought to you by Tim Curry.
'Monster Squad Rap,' 'Monster Squad'
Just when you thought 'Monster Squad' couldn't get any better, they went ahead and stuck this song over the closing credits. Just like how an Outback Blooming Onion is already amazing, and then they give you a gigantic vat of spicy mayonnaise to dip it in. This song is the gigantic vat of spicy mayonnaise.
'Dance Magic Dance,' 'Labyrinth'
If you didn't spend a fair portion of your youth staring at David Bowie's pants in this movie, congratulations -- you're probably a well-rounded adult! For the rest of us, there's this.
'Are You Ready For Freddy?,' 'A Nightmare on Elm Street 4: The Dream Master'
We'll be honest -- we would much rather watch The Fat Boys in a haunted house over the fourth Nightmare movie. Why wasn't this video spun off into its own movie? Forget yet another reboot -- it's time for a "Fat Boys Versus Freddy" movie! It could be the modern day 'Abbott and Costello Meets Frankenstein.'
'The Headless Horseman Song,' 'Disney's The Legend of Sleepy Hollow'
And this is Bing Crosby's second entry on the list -- who knew he was so scary? Aside from his kids of course. Zing!
More From 100.5 FM The River