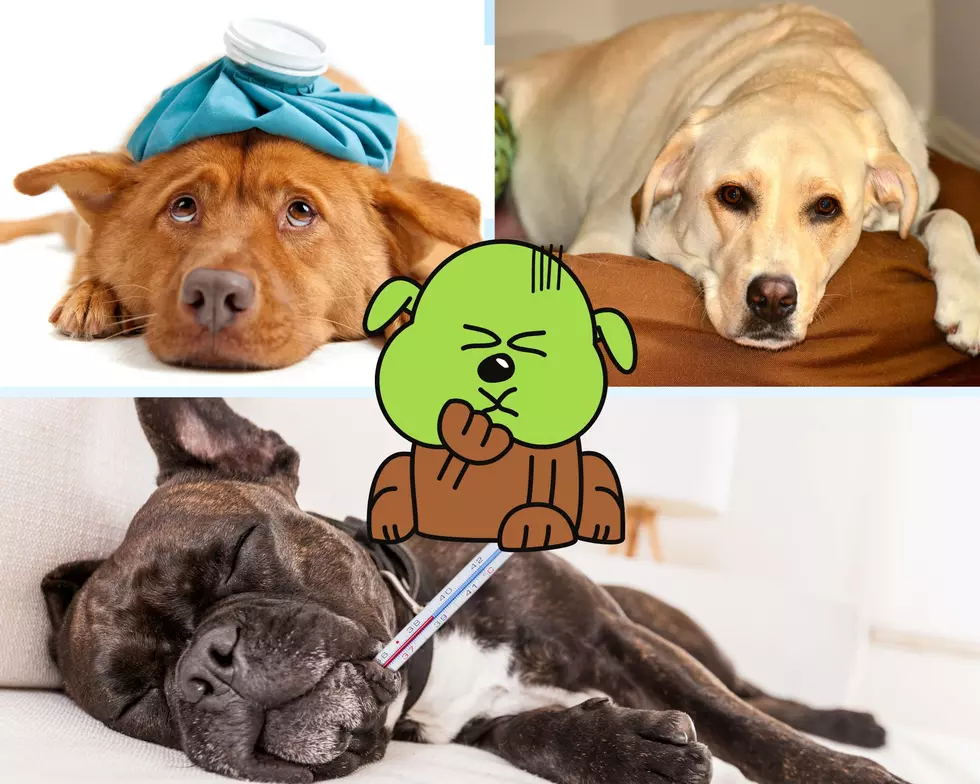 Mystery Illness Killing Dogs Up North
Canva
After reading this, you may want to think about keeping you dog home when you head up north Labor Day weekend.
Dogs In Northern Michigan Have Been Dying Of A Parvo-Like Illness
The mystery illness began in Otsego County and has spread like wildfire throughout Northern Michigan, prompting veterinary officials to issue warnings to dog owners state wide.
The illness is similar to the parvovirus, but is not deterred by the parvovirus vaccine that many dogs are required to have.
Animal Control Director Rudi Hicks in Clare County says the illness has killed at least 30 canines in her county alone.
"It mimics Parvo, but they are all testing negative," Hicks told the Clare County Cleaver. "All of the dogs have died, vaccinated and unvaccinated. We just had eight dogs in our county, that we know of. We took a dog down yesterday for necropsy that just died of it, but don't have the results back."
Symptoms Mimic Parvo, But Tests Show Otherwise
The dogs die shortly after showing symptoms which include vomiting and bloody diarrhea, which are similar to the much more well known parvo, but post-death tests come back negative.
The Otsego County Animal Shelter said in a Facebook post that the dogs there who have come down with the illness have all been younger than two.
The post went on to say:
When taken to the vet the dogs are tested and the tests come back negative. Most of these dogs have passed within 3 days. These dogs are mostly under the age of 2. Some of the dogs were vaccinated.
The animal shelter has been in close contact with the vets in Gaylord, Traverse City, Grayling, Mancelona and Indian River trying to figure this out. We have also talked with the State Veterinarian, the Michigan Department of Agriculture and Rural Development and a necropsy was done at Michigan State University Veterinary Diagnostic Laboratory in Lansing. No one has an answer. The best "guess" is that this is a strain of parvo.
Disease Appears To Have Originated In Louisiana And Is Becoming A National Issue
Hicks says the virus is everywhere and seems to have come from Louisiana.
When asked if it was known how the disease spreads, Hicks said it is unknown. "They don't know anything. The state is in a panic right now."
The Michigan State University veterinary site says best practice right now is to make sure your dog is up to date on all vaccinations and be very careful with them around other dogs.
If dogs or puppies show signs of illness, keep them at home and away from other dogs and contact your veterinarian. We'll share more updates as we have new information about this investigation.
On a positive note, a few years back, my wheaten terrier, Elmo, came down with similar symptoms and was given three days to live. He lived seven more years.
LOOK: Here Are 30 Foods That Are Poisonous to Dogs
To prepare yourself for a potential incident, always keep your vet's phone number handy, along with an after-hours clinic you can call in an emergency. The ASPCA Animal Poison Control Center also has a hotline you can call at (888) 426-4435 for advice.
Even with all of these resources, however, the best cure for food poisoning is preventing it in the first place. To give you an idea of what human foods can be dangerous, Stacker has put together a slideshow of 30 common foods to avoid. Take a look to see if there are any that surprise you.
More From 100.5 FM The River