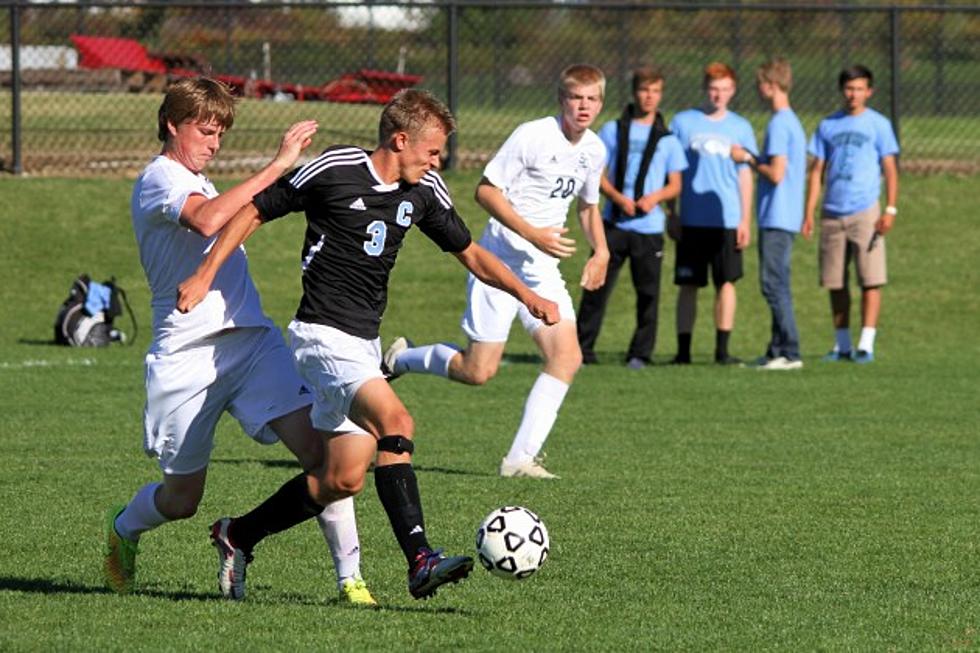 Grand Rapids Christian High School Boys' Soccer's Jacob Witte Named Athlete of the Week
Grand Rapids Christian High School boys' soccer player Jacob Witte battles to control the flow of play in a match against South Christian. (Photo: Shelly Winkle)
"I could tell on my first day that he'd stand out," first-year Eagles Coach Joshua Miller said of Witte. "I could tell he was a natural leader, ... and that hasn't changed.
"He's great on the field, but he's also great off the field."
Witte carries humbleness on such remarks. He just sees himself as wanting to working hard to make him and his teammates successful as group.
"We've had a lot of success this season," he said.
"We have high hopes for the team and this season. ... This doesn't change that."
Witte shows his leadership is innate, talking more about "we" than me when discussing his own efforts. He eagerly shares about the Eagles' successes to date, talking up teammates such as A.J. Talbott, Ian Adams and Creaghan Diekema, perhaps, more readily than about himself.
"This is a group of guys who have showed they could come together," said the self-professed "natural forward." "I feel more comfortable when I have the ball in front, ... and a big part of that is the confidence I have in the guys I play with."
That comfort in the team's 4-3-3 alignment has produced 13 goals and 12 assists for Witte. He had an assist in Grand Rapids Christian's loss snapping a 12-match winning streak on Thursday.
"This is his natural position," Miller said of Witte. "He's very dangerous with the ball on his feet. He can beat guys with his feet, and that's where we want him."
But Witte's not selfish, with Miller adding: "He's always looking to help get the guys going. He makes them better."
He's in his third full season on the varsity for Grand Rapids Christian and has also competed in boys' track and field in middle and long distance events for the Eagles.
The son of John and Rachel Witte, he has a younger brother and sister. He also plays club soccer with the Grand Rapids Crew and has hopes to play in college.
More From 100.5 FM The River