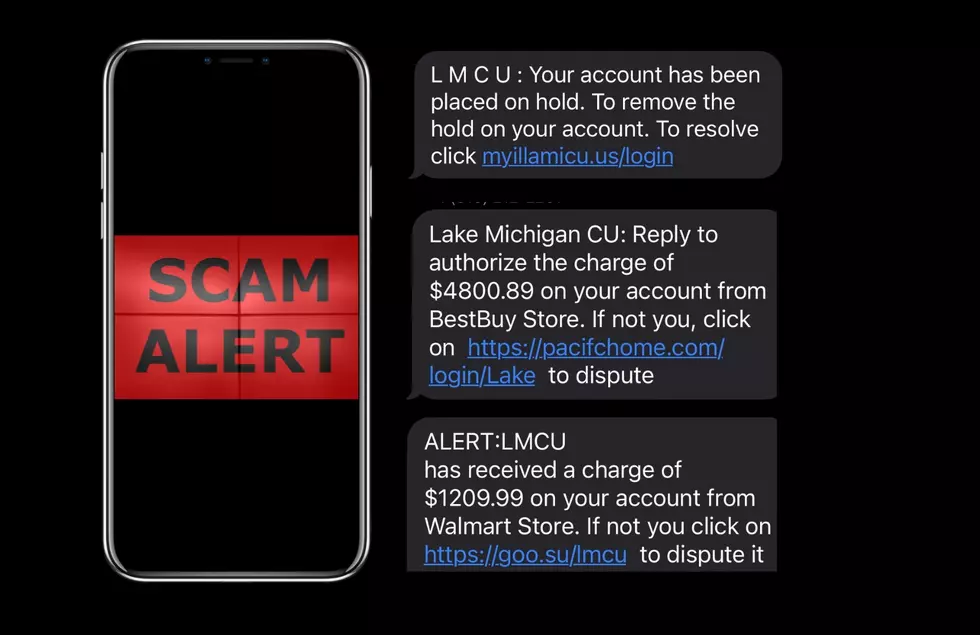 Did You Get A Text From LMCU? Be Careful It Could Be From A Scammer
Credit: Big Joe Pesh / Canva
I thought I was the only one getting weird text messages from a number claiming to be with Lake Michigan Credit Union (LMCU)
But, it turns out it's happening to people across West Michigan.
Did You Get A Text From LMCU? Be Careful It Could Be From A Scammer
People across West Michigan have been getting text messages that are actually phishing scams.
Phishing is where a scammer sends a fraudulent message designed to trick a person into revealing sensitive information or to deploy malicious software on the victim's infrastructure like ransomware
What Do The Text Messages Say?
I've gotten four text messages from different numbers over the past few weeks.
They say things to try and get you to react quickly and click on the link to enter your personal information. Below are some examples of what you might see on your phone.
This text message told me my account has been placed on hold. The thing is, I don't have any accounts with LMCU.
This text message from the scammer wanted me to authorize a nearly $5,000 charge to Best Buy.
This scheme almost worked because I know I didn't buy anything from Best Buy, but was worried someone else might have tried to.
Ohh, look another major purchase to Best Buy that needs my authorization.
This last text message is when I for sure knew this was a scam. It was for a purchase at Wal-Mart which would never happen because my wife Lindsey works at Meijer and would kill me if I ever shopped at Wal-Mart
What Can You Do To Avoid These Scams?
On the top of LMCU's website, here is what they said.
LMCU will never ask for your online banking password. We do not text about pin numbers. Beware of fraudsters posing as LMCU via text, email, and phone. Learn about identifying scams and how to protect yourself at LMCU.org/Security.

 
The bottom line is that scammers are not going anywhere so you need to be alert and pay attention to what you click on. If you're not sure reach out directly to the person or company to verify anything you're suspicious about.
These Are Michigan's Most Dangerous Intersections
If you're driving in Michigan you might want to avoid these intersections.
Michigan Auto Law
a Michigan-based law firm created the list of Michigan's most dangerous intersections using Police information from 2021 to determine which intersections saw the most crashes.
The 10 Best Places To Get Chicken Tendies In West Michigan
I call them chicken tendies but you can call them whatever you like. I ask people in West Michigan for the best places to chow down on some chicken tendies and these are the 10 best places according to them.
Nearly 25 Children Have Gone Missing in Michigan This Year
Nearly 25 children have gone missing in Michigan this year. Take a look at these children to see if they look familiar, so we can get them back home with their families.
More From 100.5 FM The River