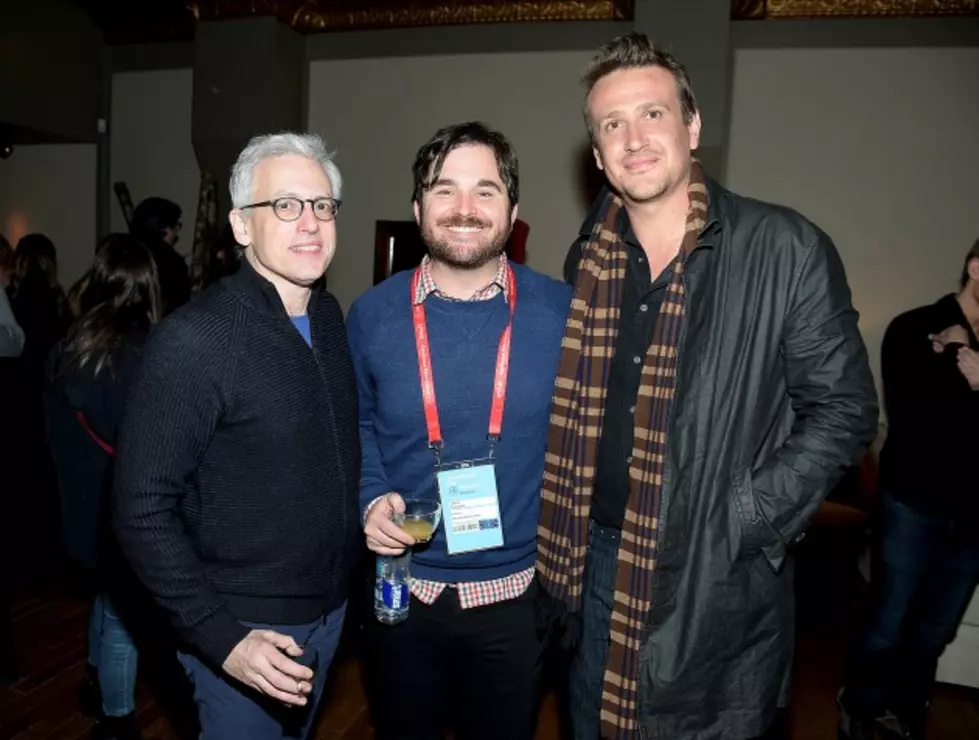 An Interview With James Ponsoldt, Director of 'The End of the Tour'
Donald Margulies, James Ponsoldt and Jason Segel attend the Grey Goose Blue Door-hosted "The End of the Tour" party on Friday night in Park City, Utah. (Photo: Michael Loccisano/Getty Images)
Director James Ponsoldt discusses the film in a lengthy interview released by Kilburn Media and Strategy PR, including why "The End of the Tour" inspired him, preparation for the movie, on-screen relationships by the cast, the most difficult scene to shoot and more.
Up to this point there hasn't been much information about the film, although there has been some controversy.
An Interview With Director James Ponsoldt
Q: What inspired you to direct this movie?

I've been a massive fan of David Foster Wallace's writing since college. "Infinite Jest" hit me in the gut at just the right time (my freshman year; I wrestled with the novel for the entire winter of 1997-98). I was hooked. After that, I read everything by Wallace I could get my hands on. David Foster Wallace has meant more to me than pretty much any other author (I even had some of his writing read at my wedding!).
When I was contacted by my college playwriting professor, Donald Margulies, and he told me that he'd adapted David Lipsky's wonderful memoir ("Although of Course You End Up Becoming Yourself") for Anonymous Content, I was eager to read the script. I had already read Lipsky's book – and his deeply moving, National Magazine Award-winning article that preceded it ("The Lost Years and Last Days of David Foster Wallace").
Donald's script was one of the quickest reads I've ever had – it was impossible to put down. It was just profoundly humane, intelligent, compassionate, and refused to be reductive in any way. It's my favorite thing Donald has ever written (and I say
that as a big fan of his plays).
Donald managed to transform the epic, multi-day conversation that David Lipsky had with David Foster Wallace into dramatic scenes pulsing with a real heartbeat, tense with subtle conflict, and deep with surprising emotion that creeps up on you. I
found it incredibly compelling.
Q: What interests you about the story?
I've been both the interviewer and interviewee for publications, so I have some understanding of the illusion of intimacy that can develop between journalist and subject. While that might seem incredibly specific, I think there's also something more universal to meeting someone you admire from a distance -- and realizing that knowing their work is vastly different than personally knowing them. People are incredibly complicated, and it's hard to ever really know another person.
I've never been comfortable with depictions of "tortured artists" in films, and I find that many films romanticize mental illness or addiction in a really superficial, reductive manner -- and in a way that doesn't resemble the struggle that friends of mine have gone through. I hope this film is a counterpoint.
I'm also not a fan of traditional "biopics." They have a tendency to flatten out and reduce the complexity of a life. "The End of the Tour" appeals to me because it's just a snapshot taken over a handful of days. The script is almost entirely based on the actual recorded conversations between the two men, so the veracity isn't really debatable.
Having a Pulitzer Prize winner like Donald Margulies transform Lipsky's stunning book into great drama makes for a truly unique story. "The End of the Tour" is a narrative film grounded in truth -- the actual time these two strangers spent together. And the brief window of time spent between these two generally guarded men hopefully offers something incredibly honest and surprisingly moving.
Q: In your own words, can you describe what this film is about?

"The End of the Tour" is a film that begins as a story about journalist and subject, then gets complicated by ego, insecurity, jealousy, vulnerability, and admiration.
Ultimately, it becomes a story about a budding friendship --– that isn't quite reciprocated.
It's hard meeting people you deeply admire. They're never exactly who you think they are. And it's doubly complicated if you measure your own self-worth and success against their own. It can become a messy, competitive situation. And when you've got two brilliant people who're used to being the smartest person in the room, well, that's a recipe for conflict.
Q: Can you elaborate on the casting process for this film?

I was very fortunate to work again with Avy Kaufman, who I think is one of the greatest casting directors in the business (I've been a longtime fan of ensembles she's put together for people like Ang Lee, Ira Sachs, and Steven Spielberg). We had long conversations about the characters. Avy is an obsessive researcher. So, of course, she met with David Lipsky and watched endless videos of David Foster Wallace.
It was a pretty exhaustive process. I met many actors. Ultimately, we would up with an ensemble of actors –- Jesse Eisenberg, Jason Segel, Joan Cusack, Mickey Sumner, Ron Livingston, Anna Chlumsky, Mamie Gummer, and Becky Ann Baker -- that I, Avy and the producers were the most passionate about. These are some my favorite film actors; I find them endlessly watchable, intelligent, surprising, funny, deeply
moving, and above all –- honest.
So much of the film is spent just with Jesse and Jason -- it was vital that the two of them have chemistry. And they really did. It was a pleasure to watch. They'd never worked together before, and it immediately clear that they enjoyed making each other laugh, one-upping each other. It felt like I was genuinely watching the beginning of a great friendship.
Having Jason and Jesse as collaborators in the filmmaking process was invaluable.
Beyond their gifts as actors -- and they both gave incredibly brave, honest, generous,
surprising, and incredibly vulnerable performances, they have brilliant imaginations and are great writers. Whether it's Jesse's plays and New Yorker
humor pieces or any number of the films Jason has written (I really like "The Muppets" and "Forgetting Sarah Marshall"), the guys understand the life of a writer far more than most actors. They've both been humbled by the writing process, they understand how frustration and loneliness, and they know what makes a good scene.
I'm so excited to share these beautiful performances with the world. I don't think audiences have ever seen Jesse and Jason like this before. There's a depth of emotion, honesty, and a level of vulnerability totally lacking in vanity that I find riveting –- and very moving.
Q: Can you talk about your collaboration with author David Lipsky and screenwriter Donald Margulies? What was the process like of bringing the story to life?

Donald had already adapted David Lipsky's book when I became involved with the film. I wasn't even quite sure how someone could do that particular adaptation.
Donald's script blew me away -- it took the best elements of Lipsky's book and transformed them into incredible subtle, gripping drama.
Once I became involved, I spoke and met with David Lipsky and Donald quite a bit.
They were incredibly valuable resources. Donald is one of our great dramatists, and David is one of our finest journalists (Absolutely American remains one of my favorite works of non-fiction). Their support was invaluable. As the script developed -- in small ways, as all scripts do (they are, of course, blueprints). I couldn't have asked for better resources than David and Donald. They're unfailingly brilliant and egoless, which is such a rare combination.
Q: Describe David Foster Wallace's significance in contemporary culture, and
what is it about him that would intrigue audiences?

David Foster Wallace was a revelation to many readers who discovered him in the mid-1990s (and earlier) because he managed to write the way people think. In an increasingly distracted era, where we have all manner of entertainment available at our fingertips, Wallace seemed to be incredibly prescient in his sense of where culture seemed to be headed. Simply put: David Foster Wallace helped change popular writing –- something that happens maybe once in a generation (perhaps like Gertrude Stein, James Joyce, Tom Wolfe, or Jack Kerouac before him).
Despite all the verbal pyrotechnics of Wallace's prose, he went to exhaustive lengths to articulate a sincere and vulnerable and self-aware voice, one that could discuss everything from depression and addiction to television and sports and politics with equal dexterity.
Q: What were the challenges of depicting characters that are non-fictional and staying true to the filmmaking aspect?

We always wanted to be sure that we weren't doing impressions (like a "Saturday Night Live" sketch). The goal was to capture the essence of the characters. But truth was always the overriding goal. Jesse Eisenberg offered a lot of insight into that process. He'd obviously been through it before in "The Social Network."
Ultimately, this was a film with a script and actors -- not a documentary. But we went to great lengths to get the details right. It helped that we had hours and hours of tapes and one of the characters depicted was a resource –- in addition to people (both friends and family) we spoke to who were very close to David Foster Wallace during this time in his life in 1996.
Q: Can you discuss the central relationship of the film between Lipsky (Jesse) and Wallace (Jason)?

Lipsky and Wallace have both an incredibly simple and a complicated relationship. On one hand, it's journalist and subject. There's understood boundaries in that relationship. However, after a while there seems to be a level of intimacy and honesty that blurs the lines. There's a kind of transference between the two men, and issues of professional jealousy, intellectual competition, and masculinity rise to the surface. They just seem to get too close. And Wallace is exhausted; he's worked for years on Infinite Jest, promoted the hell out of it, and Lipsky begins to feel like a
shadow he can't hide from.
Archetypally, it's a story about two people who wants different things from each other – and can't satisfy the other. In some ways, it's a lonely souls film; in other ways, it's an unrequited platonic love story.
Q: What was your favorite scene to shoot?

That's like picking your favorite child! I have so many favorites. But I think the scenes that most resonated with me were quiet, intimate scenes in Wallace's living room -- where it's just two intelligent guys getting to know each other, riffing, testing, BSing, hanging out. The quality of "hanging out" in film. And having it be compelling is something that's hard to pull off. But Jason and Jesse just had such amazing chemistry -- it was a pleasure to witness. Knowing that these were real conversations -- having actually listened to recordings of those conversations! -- made the entire thing feel a bit surreal, and very touching.
Q: What was the most difficult scene to shoot?

Every scene that was outdoors presented challenges – we filmed in the upper Midwest in the middle of the Polar Vortex, so we faced incredible weather
challenges. Brain-numbing, subzero temperatures, ice, wind, and so much snow. And, considering that the story involves a road trip, there were many, many outdoor scenes. We froze.
Q: How much preparation and research did the actors do before production?
A lot. We talked endlessly about the script and characters and gave them the actual
recordings (which were the basis for David Lipsky's book). Jesse spent time with David Lipsky.
And Jason watched endless videos of David Foster Wallace, spent time with Kymberly Harris (who dated and lived with David Foster Wallace during the period he wrote Infinite Jest; her parents were the heads of the English Department at Illinois State, and were the ones that hired David; they were also resources for me when I visited Bloomington-Normal, Ill.), watched endless tapes of David Foster Wallace, worked with an amazing dialect coach named Liz Himelstein (who worked on everything from "Fargo" to "Selma"); and, of course, he read "Infinite Jest."
Q: What are your upcoming projects?

I've got a few different film and TV projects, including "The Circle," "Rodham" and "Black Gold." And then I'm always writing (and rewriting, and rewriting ...).
About James Ponsoldt
James Ponsoldt is a filmmaker originally from Athens, Ga. A graduate of Yale University
and Columbia University's master's of fine arts film program, Ponsoldt's feature film debut was with "Off the Black," which premiered at the 2006 Sundance Film Festival.
His subsequent feature, "Smashed," made a Special Jury Prize-winning debut at Sundance in 2012 and starred Mary Elizabeth Winstead.
Ponsoldt's third feature, "The Spectacular Now," took home a Special Jury Award at Sundance in 2013. Starring Miles Teller and Shailene Woodley, the coming of age story was released by A24 Films in August 2013.
His latest feature, "The End of the Tour," stars Jesse Eisenberg and Jason Segel. It is based on David Lipsky's book, "Although of Course You End Up Becoming Yourself," and chronicles the story of magazine reporter Lipsky (played by Eisenberg) who recounts his travels and conversations with famed author David Foster Wallace (Segel) during a promotional book tour.
"The End of the Tour" is premiering at the 2015 Sundance Film Festival in Park City, Utah.
In addition to feature films, Ponsoldt has also directed episodes for the critically-acclaimed TV series "Shameless" and "Parenthood."
More From 100.5 FM The River