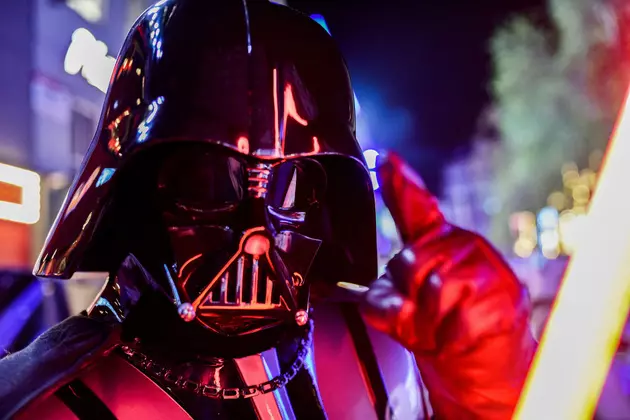 Gareth Cattermole/Getty Images for Disney)
Okay, we know Darth Vader died in the Star Wars movie Return of the Jedi, but in real life, the actor who brought the character to life, David Prowse, has just passed away.
WOOD-TV reported that Dave Prowse, the British weightlifter-turned-actor who was the body, though not the voice, of arch-villain Darth Vader in the original "Star Wars" trilogy, has died. He was 85.
Prowse was born in Bristol, southwest England, in 1935, Prowse was a three-time British weightlifting champion and represented England in weightlifting at the 1962 Commonwealth Games before breaking into movies with roles that emphasized his commanding size, including Frankenstein's monster in a pair of Hammer Studios horror films.
But, his life took a significant turn when Director George Lucas saw Prowse in a small part in "A Clockwork Orange" and asked the 6-foot-6-inch actor to audition for the villainous Vader or the Wookie Chewbacca in "Star Wars."
Prowse said he didn't "fancy" wearing the fury Chewbacca suit all the time, and besides, movie fans always remember the bad guy. Oh, yes, how we did!
Even though he was physically perfect for the part, his voice wasn't and his lines were dubbed in by none other that James Earl Jones. The rest is history, as they say.
He did say there was a slight downside of playing Vader. Because he had to wear the mask he could walk around with complete anonymity. He admitted that all actors crave recognition, and it wouldn't have been bad to have some that followed Luke Skywalker and Han Solo!
Prowse also worked as a trainer for other actors, helping Christopher Reeve prepare to be the Man of Steel in hit 1978 film "Superman."
Prowse was also known to a generation of British children as the Green Cross Code Man, a superhero in road safety advertisements during the 1970s and '80s.
Prowse suffered from arthritis for many years and campaigned to raise money for research into disease. In 1999 he was made a Member of the Order of the British Empire by Queen Elizabeth II for his services to charity and road safety.
Prowse is survived by his wife Norma and their three children.
CHECK IT OUT: The Best Movie Character Names of the 1980s
More From 100.5 FM The River