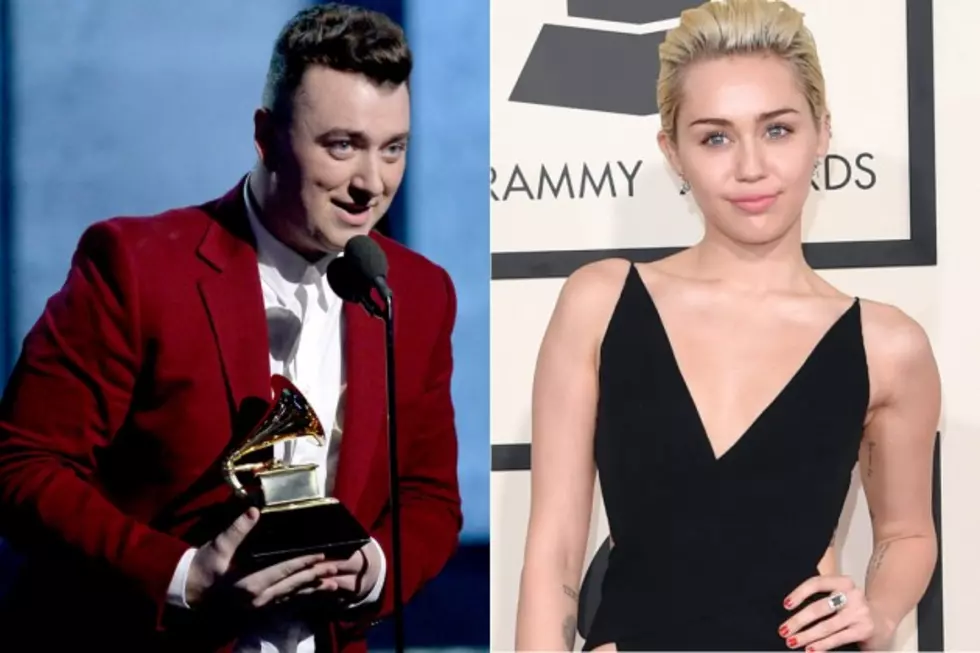 2015 Grammys: Relive the Best Moments [Video]
Kevork Djansezian/ Jason Merritt, Getty Images
We're still reeling from the 2015 Grammys. Between the incredible performances, the amazing fashion and the emotional acceptance speeches, it was definitely a night to remember.
It was such an impressive night, in fact, that we decided to round up the five best moments. (A tough task, we know!) Check 'em out below!
5. Miley Cyrus found the perfect balance between edgy and classy.
Miley Cyrus has hit her sartorial groove. The singer loves to show some skin and raise some eyebrows, but never has she been a better mix of envelope-pushing and elegant than at the Grammys. Her long black gown had cutouts in all of the right places -- and did we mention that the low back was perfection? She just raised the bar so high.
It looks like there's no longer "bad blood" between Taylor and Kanye! Although the rapper infamously crashed T. Swift's VMAs speech a few years back, the two were spotted BFFing it up after the Grammys. We officially support how cute their friendship is. #TayYe
3. Katy Perry gave a powerful, important and moving message.
Katy took a stand at the Grammys, sharing an important message that needs to be heard. The singer performed 'By the Grace of God,' speaking out against domestic violence. And while Katy excels at flashy, upbeat performances, this emotional song totally blew us away.
2. John Legend and Common close the Grammys with 'Glory.'
It's only fitting that music's biggest night end on a show-stopping note -- a task achieved by John Legend and Common. The two performed 'Glory,' their Golden Globe-winning song from 'Selma.' It was a passion-filled performance, only heightened by the duo's belief in the power of their message.
1. Sam Smith has four Grammys -- and the man who broke his heart has none.
Sam Smith got sweet revenge in the classiest way possible -- by scooping up four, count 'em, four Grammys for his heart-wrenching album. We're sure that the man who broke Sam's heart is kicking himself now, but in case he needed a reminder, Sam said, "I want to thank the man who this record is about. Thank you so much for breaking my heart because you got me four Grammys!"
See the Best Dressed Celebs on the 2015 Grammy Awards Red Carpet
More From 100.5 FM The River