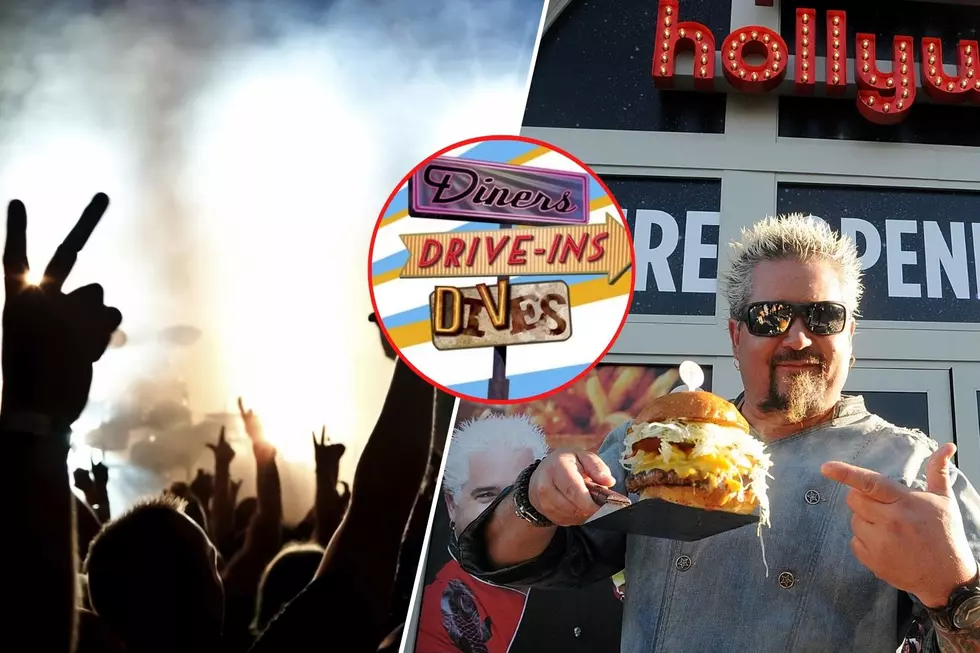 West Michigan Band to Appear on TV Show 'Diners, Drive-Ins, and Dives'
Getty Stock, Diner's Drive-ins Dives/ Facebook, Gerardo Mora/ Getty Images
A West Michigan band recently took a trip to Flavortown.
If you're not familiar, "flavortown" is a catchphrase of chef, restaurateur, and TV personality Guy Fieri, who hosts Diners, Drive-Ins, and Dives on the Food Network.
"Triple D" travels around the country highlighting local restaurants that might be considered "hole-in-the-wall" places that are serving up delicious food.
Recently the show was filming in Nashville, Tennesee...
West Michigan band, Wayland, has also been in Nashville, playing shows and recording a new album...
And well, it looks like their worlds collided!
The band shared the news on Facebook:
We don't yet know when the episode with Wayland will air or which Nashville restaurants will be featured - but according to the Tennessean, the show was definitely shooting there last week.
The Tennessean reports that Fieri stopped by his Nashville Chicken Guy location, drawing upwards of 500 fans. Fieri told the Tennessean,
We're doing 'Triple D' - we just shot three locations today. I wanted to see Bucky, who's a great partner here at Chicken Guy! and meet the 'Gov.' and the First Lady and talk about this program we have for our charity, the Guy Fieri Foundation. We do programs for veterans and for first responders, so we're here to talk about that. We're shooting some more 'Triple D tomorrow,' and what else do we got going? Maybe to have a good time and hang out with old buddies.
Oooh - are Wayland and Guy Fieri "old buddies"? Maybe Guy Fieri is big a fan! That's pretty cool for our West Michigan friends, Wayland - who yes, if you weren't aware, are named for the town of Wayland where guitarist Phil Vilenski is from.
They've been away from the Mitten State recently though, operating out of Nashville. They've been sharing new songs on social media, and it sounds like we might be getting close to a new album!
The band shares on BandsinTown,
Wayland Warriors,

You have truly been absolute Warriors waiting patiently while we made the transition from touring 300 days a year for seven years, to making a record in Los Angeles, to finishing that record in the Mojave Desert, to now finalizing that record in Nashville, Tennessee.

We are bringing you the most personal and honest songs of our entire career with our first full length record release since 2017 and we couldn't be more excited to share this music with you. We are personally inviting you to our debut show back on May 24 at The Basement in Nashville, Tennessee. We have Warriors traveling in from all over the country to share in this special night with us where you will hear the new record first: loud, live, full band, and electric for a new album preview. We can't wait to see you.
Keep up with with Wayland on Facebook for updates on new music and upcoming tours!
When we learn the date of their Diners, Driver-Ins, and Dives episode we'll update this post!
Our Top 16 Songs That Mention Michigan in the Lyrics
Right off the top of your head, you can think of two or three songs that mention Michigan or Michigan cities in the Lyrics, right?
But we decided to dig a little deeper and came up with 16 songs that mention the Mitten State. Surprisingly, Michigan-born artists like Stevie Wonder and Madonna don't make the list, but Bob Seger has a whopping three songs that make mention of his home state.
Let us know if there are any essential Michigan songs that need to be included.
More From 100.5 FM The River