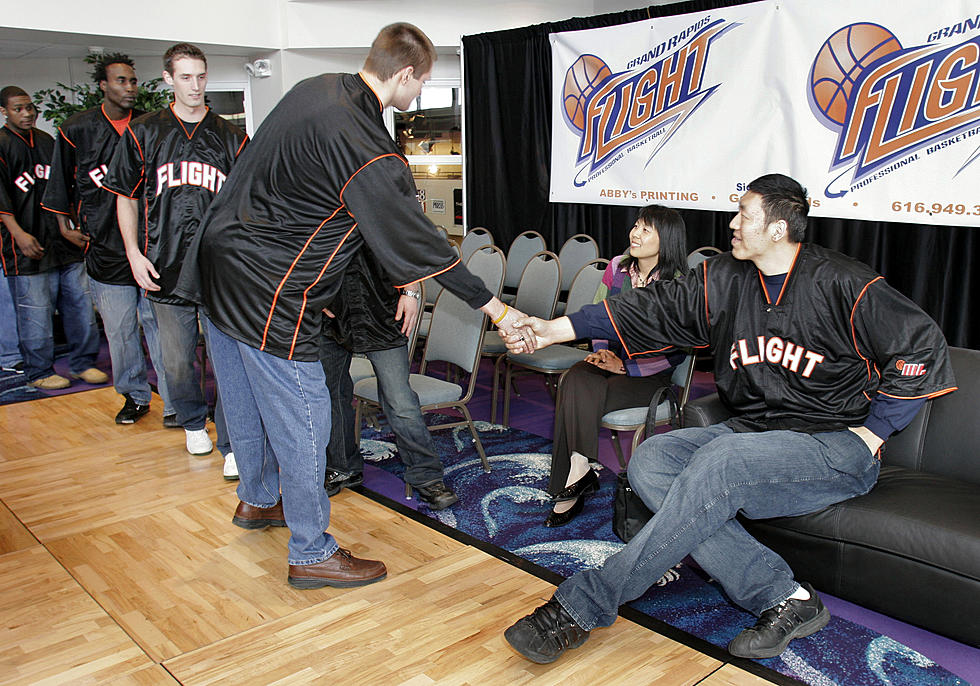 Remember When the World's Tallest Basketball Player Called Grand Rapids Home?
Getty Images
Standing at an imposing 7 feet 9 inches tall, Sun Ming Ming isn't quite the tallest person in the world, but he's credited as the tallest person ever to play professional basketball. And that pro ball was played in West Michigan for the Grand Rapids Flight.
Sun Ming Ming is a native of China who came to the United States to play basketball. First at Ventura College in California then for minor league teams including the Grand Rapids Flight of the International Basketball Association. Sun came to West Michigan in 2007 and played with the Flight through 2008.
Here's news coverage from ABC at the time.
What Happened to Sun Ming Ming?
After his two seasons with the Grand Rapids Flight, he returned to China and played professionally until 2014, his team made, but lost in, the finals of the Chinese league in 2012.
While he played ball, he was also an actor, most notably as the Kung-Fu Giant in Rush Hour 3. He made his final film appearance in 2017.
Sun Ming Ming in Rush Hour 3
World's Tallest Married Couple
Sun Ming Ming made news again when he wed Xu Wan. The couple made the Guinness Book of World Records as the tallest married people: 13'10" combined.
The History of the Grand Rapids Flight
The Flight made Grand Rapids the center of the basketball world for a hot minute with the signing of Sun Ming Ming. The Flight played for 4 seasons, 2005-2008. They played home games at Northport Christian High School, Wyoming Park High School, the DeltaPlex and Davenport University. Ephemera from the team occasionally pop up on Ebay like this pocket schedule for the inaugural 2005 season.
WZZM covered the launch of the Flight and pointed out that the owner, at 26 years of age was the youngest pro sports owner in the country.
The World's Largest Basketball Player, Sun Ming Ming, Playing for the Grand Rapids Flight
In 2007 the Grand Rapids Flight signed the tallest person in the world to ever play basketball to their team, Sun Ming Ming from China.
More From 100.5 FM The River