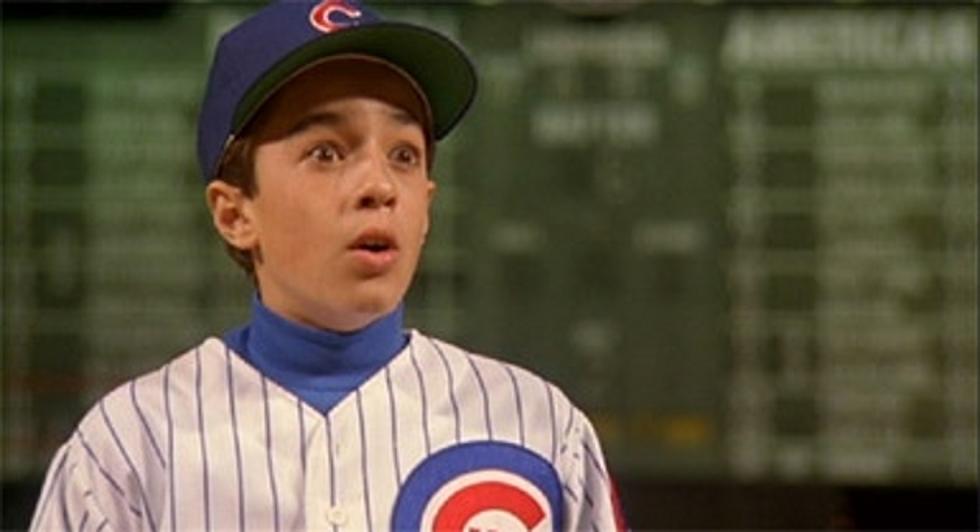 See the Cast of 'Rookie of the Year' Then And Now
20th Century Fox
In the '90s baseball classic 'Rookie of the Year,' 12-year old Henry Rowengartner (Thomas Ian Nicholas) really wants to be a major leaguer. The only problem is he's more of klutz than a diamond king.
That all changes when Henry injuries his arm trying to make a play. The tendons in his shoulder heal "too tightly" and suddenly he has the ability to hit triple digits on the radar gun.
The Chicago Cubs' general manager notices his unlikely rocket arm when Henry throws a home run back on the field at Wrigley and the rest is sports movie history. Check out what the cast of the 1993 comedy is up to these days below.
Thomas Ian Nicholas, Henry Rowengartner
Then: Prior to starring a the rookie with the amazing arm, Thomas Ian Nicholas had played Ferdie in 'Radio Flyer' and made appearances on shows like 'Married With Children' and 'Harry and the Hendersons.'  He went on to star in 'A Kid In King Arthur's Court' and then to even more fame as nice guy Kevin in the 'American Pie' franchise.
Now: As an actor, Thomas has a couple big non-'American Pie'-related films on the horizon with 'The Stone Pony' and '10 Cent Pistol.' He's also a musician, with several albums under his belt. Follow him on Twitter for updates on where to see him perform live.
Gary Busey, Chet 'Rocket' Steadman
Then: Back when he was thought of as "quirky" but not yet "completely insane," Busey starred as aging pitcher "Rocket" Stedman in 'Rookie of the Year.' Busey had burst onto the Hollywood scene in 1978 with an Academy Award-nominated turn as music legend Buddy Holly in 'The Buddy Holly Story' and was also known for his roles in 'Point Break' and 'Lethal Weapon.'
Now: These days, Busey's most relevant work is as himself, amping up the crazy on reality shows like 'The Apprentice' and 'Celebrity Wife Swap.' He will soon star in a movie called 'DaZe: Vol. Too (sic) - NonSeNse,' which is described as a comedy/drama/musical and will also feature Leslie Easterbrook of 'Police Academy' fame.
Amy Morton, Mary Rowengartner
Then: Amy Morton, who played Henry's protective mom, first got noticed for her theater work, in particular with Chicago's famed Steppenwolf Theatre Company. She also played recurring characters on 'Crime Story' and 'The Equalizer.'
Now: Morton scored a Tony nomination for Best Actress for her role in the acclaimed play 'August Osage County.' She was in the movies 'The Dilemma' and 'Up in the Air,' and recently played roles on 'Boss' and 'Blue Bloods.'
Bruce Altman, Jack
Then: The role of Mary's boyfriend Jack, who doesn't necessarily have Henry's best interests at heart, went to Bruce Altman. The Yale School of Drama graduate had previously popped up in the movies 'Glengarry Glen Ross' and 'Regarding Henry.'
Now: Although you probably don't know Altman's name, you probably recognized his face from TV shows like 'The Sopranos,' 'Damages,' 'Blue Bloods' and all of the various 'Law & Orders.'
Daniel Stern, Phil Brikma
Then: In addition to directing 'Rookie of the Year,' Stern played jovial pitching coach Phil Brikma. The '90s were a good decade for Stern, as he starred in the 'Home Alone' and 'City Slickers' franchises and provided the narration for 'The Wonder Years.'
Now: After a slow few years acting wise, Stern was cast in the sitcom 'Girlfriend in a Coma,' although the future of the anticipated series is now in doubt after the departure of his co-star Christina Ricci. He also popped up on 'Workaholics' and played The Old Man in  the controversial 'A Christmas Story 2.'
Dan Hedaya, Larry Fisher
Then: It was the Cubs' general manager Larry Fisher, played by Dan Hedaya, who had the idea to put Henry on the team to boost sagging attendance. Hedaya was already one of the most successful character actors of his generation with an impressive resume in both film ('Blood Simple,' 'Benny & Joon') and television ('Cheers,' 'Wise Guys').
Now: The 70-year-old is still doing his thing, with roles in the movies 'American Pastoral' and 'Black Dog, Red Dog' on the horizon.
Albert Hall, Sal Martinella
Then: Henry makes a believer of his manager Sal Martinella, who was played by Albert Hall. The seasoned actor had been best known for his role as Naval PBR boat commander Chief Phillips in the Francis Ford Coppola Vietnam war classic 'Apocalypse Now.'
Now: Hall has had recurring roles on shows like '24' and 'ER' and was last seen as Bruce on 'Men of a Certain Age.'
Robert Hy Gorman, Clark
Then: Robert Hy Gorman was Clark, one of Henry's few age-appropriate buddies, in 'Rookie of the Year.' Gorman had a busy career as a child actor, starting as series regular Michael Channing on 'Falcon Crest' and scoring roles in 'The Accidental Tourist' and 'Don't Tell Mom the Babysitters Dead.'
Now: Gorman is still working today, playing roles in the movies 'Leatherheads' and 'All For Liberty' and appearing on episodes of 'Drop Dead Diva' and 'One Tree Hill.'
John Candy, Cliff Murdoch
Then: In an uncredited cameo, Candy was Cubbies play-by-play man Cliff Murdoch. The beloved 'SCTV' alum had used his easy charm to become a comedic leading man during the '80s, starring in films like 'The Great Outdoors,' 'Uncle Buck' and 'Planes Trains and Automobiles.'
Now: Sadly, Candy died soon after 'Rookie of the Year' at the age 43. His last movie ended up being the Michael Moore-directed satire 'Canadian Bacon.'
Barry Bonds, Himself
Then: A skinny Barry Bonds was among the real-life major leaguers Henry struck out in 'Rookie of the Year.' When the film was shot, Bonds was on his way to becoming the game's highly controversial home run king.
Now: Despite his seven MVPs and various all-time records, Bonds remains a baseball pariah because of his connection to steroids. Could it be that being struck out by a 12-year-old in 'Rookie of the Year' encouraged Bonds to start experimenting with performance-enhancing drugs?