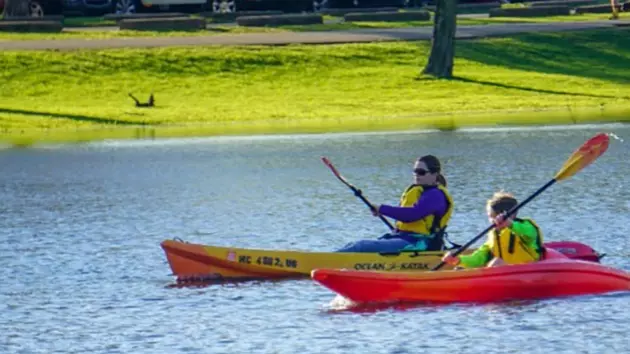 Kayaking on the Grand River? Yep!
City of Grand Rapids/Fox17
In the future we all are hoping that the rapids return to the Grand, Grand River that is. That is the plan, but it may be a bit before it actually happens. With the return, recreation will return as well around downtown, boating, kayaking, canoeing and maybe more. For now, Riverside Park area is the place, and if you need help in getting started, next month will be the time.
Grand Rapids will host beginner-friendly kayaking demos and guided trips in the Grand River in August and September.
Fox17 reported the series will kick off with a free demo day at the lagoon at Riverside Park and follow with guided trips on the Grand River, August 7, from 1-4 p.m. with free, 20-minute kayaking demos.
Single and tandem kayaks will be available to use on a first-come, first-served basis.
Kayakers need to be at least 18 years old to kayak alone. Children ages 7-11 must be in a tandem kayak with an adult.
With safety in mind,  the parks and recreation department's lifeguard certified staff will be on site with kayaks, paddles, flotation devices and tips on using the kayaks.
In addition to Lagoon Days, the parks and recreation department will also host 90-minute guided kayaking trips down the Grand River and in the lagoon.
Then it's on to Kayak Adventures happening on Aug. 14 and Aug. 28 from 10 to 11:30 a.m., as well as on Sept. 12 from noon to 1:30 p.m. Kayakers will depart and return to Riverside Park boat launch #1.
Up to 12 adults can participate in Kayak Adventures, which are $30 for Grand Rapids residents and $40 for nonresidents.
Basic instruction, a kayak paddle and personal flotation device and a lifeguard certified staff member are provided for each trip.
More information, including registration, for Lagoon Days and Kayak Adventures can be found on the city's website HERE!
UP NEXT: Michigan Waterfalls You Absolutely Have to Visit
More From 100.5 FM The River