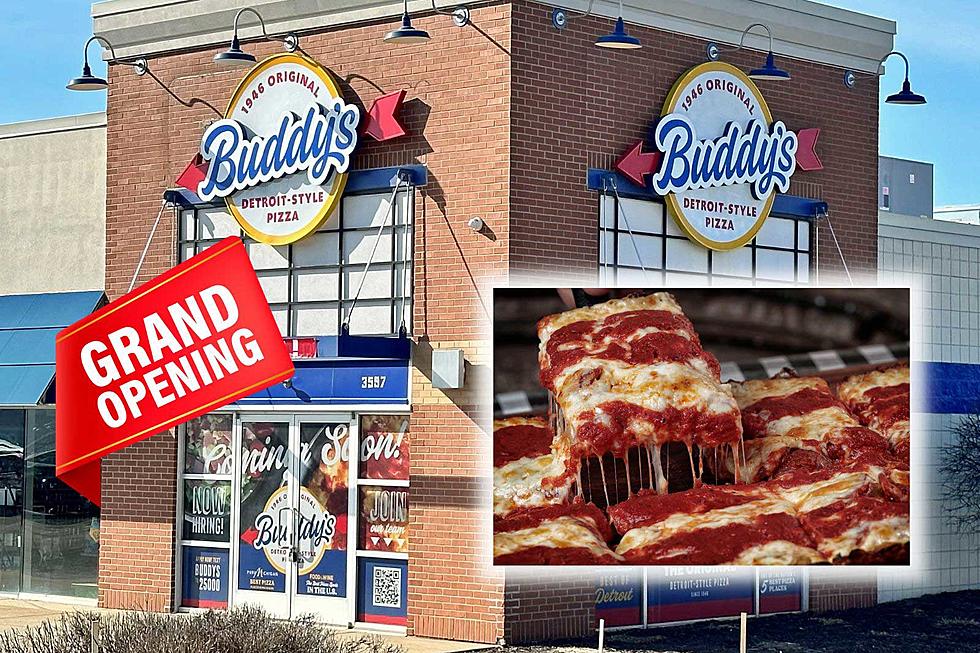 Date Set for Grand Opening of 2nd Grand Rapids Area Buddy's Pizza
Photo: Buddy's Pizza, Canva
A few weeks ago we told you that a second Buddy's Pizza would be opening in the Grand Rapids area -- we just didn't know what the exact date of the store opening would be. Now we know!
Buddy's Pizza Opening Second Location in the Grand Rapids Area
Newest Location Opens in March
Buddy's Pizza, the creator of the Original Detroit Style Pizza, will be opening up their newest Grand Rapids location in just a few weeks. The store, which will only be a carryout restaurant, is located at the corner of 4 Mile Road and Alpine in Walker, MI. A grand opening celebration is set for 11 am on Monday, March 6th. The celebration will include a visit from Griff from the Grand Rapids Griffins along with a ribbon cutting ceremony.
The new restaurant will be the second in the Grand Rapids area. Their Kentwood location, at 4061 28th St. SE, opened in 2019.
Buddy's Pizza Will Be Donating Opening Day Sales
As part of their opening celebration and to help give back to the community, Buddy's will donate all opening day sales to the Grand Rapids Children's Museum. Buddy's began its partnership with the Grand Rapids Children's Museum when it opened in Kentwood and has continued to partner through sponsorships and programming, including the "Little GR" museum exhibit, which incorporates Grand Rapids favorites like Buddy's Pizza.
The new Buddy's Pizza carryout restaurant will be open 11 am to 9 pm Monday through Sunday. You'll be able to get all your favorites, like the Buddy's Authentic Original Detroit-Style Pizza, the All-Corner 8 square, antipasto salad, Buddy Bread, and more!
The new location is located at 3597 Alpine Avenue in Walker. More information can be found on their website or on their Facebook page.
The new Alpine Avenue restaurant is the 22nd Buddy's location in Michigan. It's also the third in west Michigan, which includes two full-service restaurants, one in Grand Rapids and one in Portage. This is the first Buddy's carryout location to open in west Michigan.
Grand Rapids Needs These Popular Restaurants And Businesses in 2023
These are the top restaurants and businesses people in Grand Rapids would like to see open up in 2023.