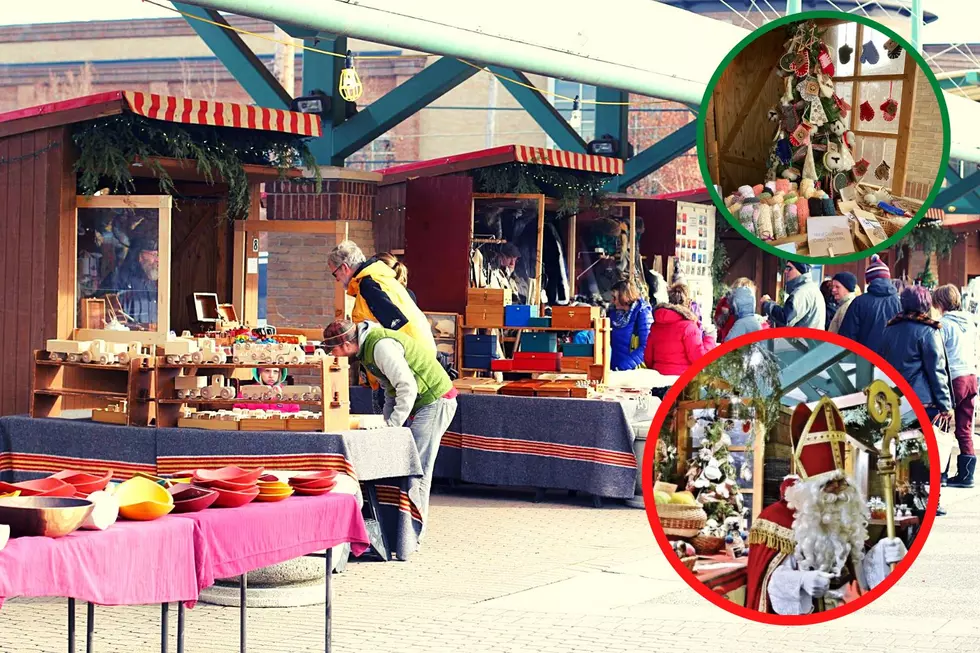 Got Christmas Shopping To Do? West Michigan Holiday Market Ranked Among Best in U.S.
Kerstmarkt, Facebook
Got some Christmas shopping to do? Or maybe you just want to get in the holiday spirit? A local holiday market selling hand-made goods, arts, crafts, and food is getting national attention!
Holland's Kerstmarkt is in the running for the Best Holiday Market in the Country in a USA Today 10Best Readers' Poll:
You don't need a passport to have a traditional Christmas market experience. Christmas markets are a European holiday tradition brought over by immigrants. Today, cities and towns across the country host holiday markets inspired by those of Germany, complete with traditional food, music, and holiday treats.
To determine their ranking, a panel of experts have chosen 20 traditional holiday markets from across the U.S., and now it's up to a public vote.
"Kerstmarkt" in Dutch means "Christmas market" and Holland's has been in operation since 1997!
While Holland has always been a popular destination in the spring, summer and fall, the Holland Area Convention and Visitors Bureau wanted to find a way to bring visitors to visit their award-winning downtown during the winter months, while continuing to honor the city's Dutch heritage.
The CVB began researching and even sent representatives to Europe during the holiday season to learn more about Christmas markets. Among the many ideas they came back with, they were inspired by the wooden booths at many markets that consist of four walls and a roof and that can be dismantled, stored and reassembled for the new season - And so, Kerstmarkt in Holland, Michigan, was born.
Kerstmarkt is in operation at the 8th Street Marketplace at the corner of 8th Street and Pine Avenue, Fridays and Saturdays Nov. 19 through Dec. 10, 2022.
Dates and times may vary, so if you'd like to go, you can check the schedule here. See the full list of this year's vendors
The market offers holiday items, delicious food, artisan wares, crafts like wreath-making, and sign-painting, and even hosts entertainment and special events, like handbell performances and dogsled demonstrations.
Follow Krestmarkt on Facebook for updates on special events in 2022.
Here's USA Today's praise for Kerstmarkt,
Holland, Michigan is best known for its spring tulips, but Kerstmarkt offers a good reason to visit in the winter... Weekends between Thanksgiving and Christmas, some 18 booths set up at 8th Street Market Place, selling holiday decorations, gifts and seasonal treats.
We can vote for Holland's Kerstmarkt in USA Today's poll here once per day through Monday, December 5 at noon!
8 Cozy Getaways: Michigan Rental Homes with Heated Indoor Pools
From Kalamazoo County to the Upper Peninsula, there are tons of great rentals in Michigan with heated indoor pools. At different price points, these different Airbnbs and VRBOs sleep 8 to 30!
12 Experiences in Michigan That Make Great Holiday Gifts
When you can't think of one more material thing to get someone on your holiday shopping list this year, why not give them the gift of something fun and new to go do? Much like the "12 Days of Christmas" here are 12 of some of our favorite ideas around Michigan that would make great gifts.
Michiganders Weigh in on how to Keep A Real Tree Alive This Christmas
So you've made the decision to get a real Christmas Tree this year? Congratulations, now you just need to follow these tips on how to keep it alive.
Here are 10 tested tips from Michiganders to keep your Christmas Tree looking great all season long.
Michigan—Your Antique Ceramic Christmas Tree Could Be Worth Some Money
You may have seen this at your grandma's house growing up. It came out for Christmas, and you had to be extra careful around it so you wouldn't accidentally break it: antique ceramic Christmas trees. These vintage trees are making a huge comeback right now. You can find newer versions in stores, but it's the older antique ones that could be worth a good bit of money these days. Take a look at some ceramic Christmas trees below to get an idea of some of the styles you should keep an eye out for.
More From 100.5 FM The River