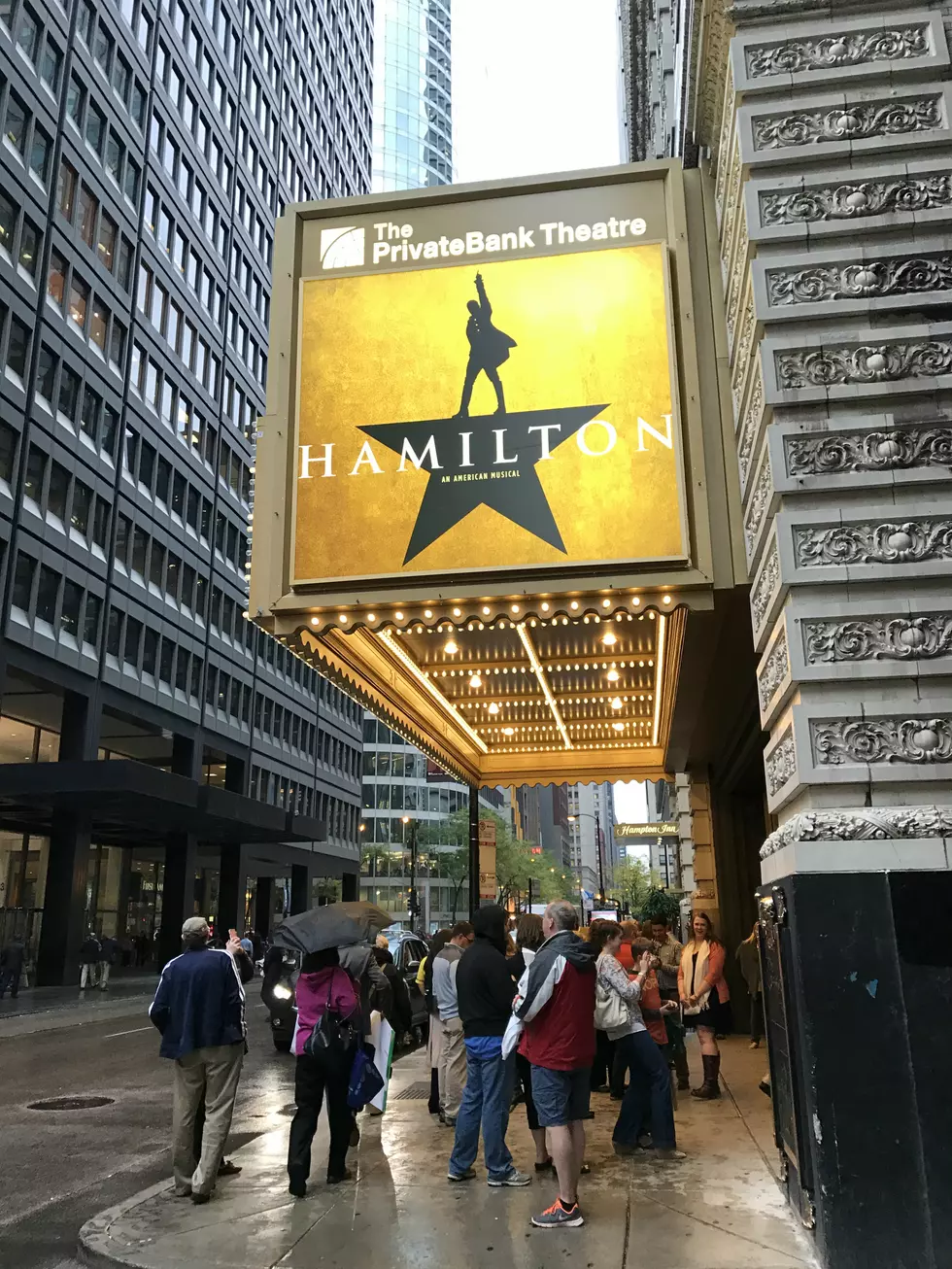 'Hamilton' Chicago vs. the Broadway Recording
Matt Milhouse, Townsquare Media
Hamilton, a musical about the life of America Founding Father Alexander Hamilton, has been a sensational hit.
Hamilton was nominated for a record 16 Tony Awards and it won 11. It has also won a Grammy, a Pulitzer Prize and enjoyed an unmatched level of pop culture crossover success.
The show has now opened in Chicago, but how does the Chicago show compare to the original cast in New York?
Hamilton officially opens at The PrivateBank Theatre in Chicago today, although preview performances began there on September 27. I had the opportunity to see Hamilton in Chicago earlier this month. I have not seen the Broadway show in person. However, like much of the country, I have listened to the original Broadway cast recording dozens of times. I can offer a fair comparison of the Broadway recording and the stage show in Chicago.
There are several differences you'll notice at Hamilton Chicago vs the original Broadway recording. There are some improvements, some things that can't be topped and some surprises too.
Alexander Hamilton
Hamilton is played by creator Lin-Manuel Miranda on the original recording. Miranda's talent has been evident for years. My family always knew Miranda as "that guy from The Electric Company." No wonder my kids enjoy reading today, they couldn't help but learn since they grew up on some seriously alphabetic rhymes.
In the musical, Alexander Hamilton's role doesn't hit many big notes as some other characters, but it is a part filled with emotion, enthusiasm and heart. A part Miranda plays to perfection since no one knows these characters inside and out quite like he does.
Miguel Cervantes gives a strong performance as Hamilton in Chicago, but it comes up short of Miranda's. That's really not a knock on Cervantes though, because no one will ever top Miranda's performance in this role.
King George
It's hard to believe that with all of the great talent, songs and characters in Hamilton that it would be possible to steal the show, but that's exactly what Alexander Gemignani does as King George in Hamilton Chicago.
King George's few appearances in Hamilton offer a change of pace, some humor and important commentary. King George is a highlight on both the Broadway recording and the Chicago performance, but the character stands out even more in Chicago. In Chicago, the scenes develop slowly and the pacing of the songs is slower than on the recording. King George is simultaneously ruthless and hilarious. It's as good as it gets.
George Washington
On the original Broadway recording, the part of George Washington, like pretty much every character, is well-performed. In Chicago, Jonathan Kirkland's powerful vocal performance as George Washington brings the character to a whole new level. The part stands out more in Chicago than it does on the recording.
Eliza Hamilton
Eliza Hamilton's role is a highlight on both the recording and the Chicago performance.
Ari Afsar plays Eliza Hamilton on stage in Chicago. Afsar has been a Top 36 finalist on American Idol, Miss California and Top 10 at Miss America. Those are the kind of accolades that follow many stars around for their entire careers, but Afsar seems destined to obtain future recognition which will surpass those credentials.
Eliza Hamilton's character features big songs and a lot of emotion. It's one thing to listen to Eliza's heart break again...and again...and again. It's another thing to witness it in person on stage. Afsar is excellent.
"Satisfied" and "Stay Alive (Reprise)"
The stage adds a whole new dimension to every song when compared to the recording. Some songs have more added than others. These two are at the top of that list. Both are examples of great songs and important storylines with a lot going on. Simply listening to the recording can be a bit hard to follow. The stage brings it all together.
The flashback scene in "Satisfied" is portrayed in a way which a recording can not duplicate and the raw emotion of "Stay Alive (Reprise)" makes the scene one of the most unforgettable once you've seen it on stage.
Before seeing the live show neither of these songs were towards to the top of my list of favorites, now they both are.
Going to 'Hamilton' Chicago
Hamilton Chicago is a must-see. Just be prepared to spend.
Unless you are in Chicago and can take a chance at the $10 ticket lottery, a trip to Hamilton is going to be an expensive one. The PrivateBank Theatre seats less than 2,000 ensuring that demand stays high for the show. Many tickets cost from $65 - $180. There are also premium seats which sell for about $500, and that's the original ticket price not an aftermarket markup.
Choosing your seats is tricky. The PrivateBank Theatre includes four levels of seating with many "obstructed" or "limited" views. Overhangs and pillars are responsible for the poor views. Here's a good look at where to sit or not sit.
Hamilton has plans to spread across the country and around the world. It's a musical we'll be enjoying not just for years, but for decades to come. You could save a road trip and plan to see it years from now, but some things just can't wait.
More From 100.5 FM The River