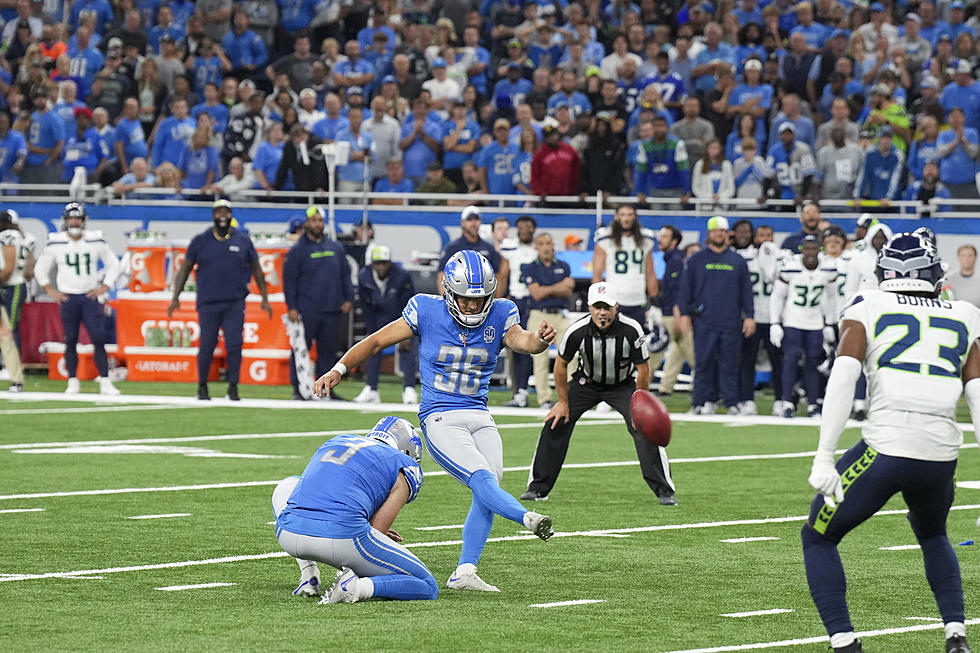 Detroit Lions Field Goal Contributes to $20 Million Prop Bet Payout
Getty Images
The Detroit Lions hit a field goal in the home opening 2023 season loss to the Seattle Seahawks. While the Lions fell, some sports bettors won big on a prop bet to the tune of a combined $20 million playout.
The parlay, offered by FanDuel, would hit if every team who played in the Sunday afternoon games (1p and 4p windows) all hit at least one field goal.
The Lions did their part with a game-tying field goal to end regulation and send the game to overtime.
The odds offered were 200-1 meaning a $1 bet on the kickers would turn into $200. On its face, it may sound like easy money. But consider that not every kick is successful and not every team may find itself in a situation to kick for 3.
But the alchemy of Any Given Sunday (not to mention the NFL Witching Hour) kicked in.
The Las Vegas Review-Journal reports that the largest win that was publically disclosed was $318,000.
ESPN also covered the big payday and provided the kick-by-kick flow of the day including the clincher which came in the New York Giants game as they hit a field goal in the final seconds.
Late Sunday afternoon, when New York Giants kicker Graham Gano lined up for a 34-yard field goal with 19 seconds left against the Arizona Cardinals, FanDuel found itself on the hook for more than $20 million, one of the sportsbook's largest payouts ever on a long shot NFL prop bet.
TotalProSports compiled tweets from winners who cashed in, but left all bettors with this reminder:
Anyone who gambles knows that the house always wins, so although FanDuel took a big hit on this particular bet, they are sure to make it all back and more in the near future. Congrats to all of those who were brave enough to lay down money on this prop bet.
LOOK: These Are the Richest NFL players
To uncover the richest NFL players,
Stacker
consulted
Celebrity Net Worth
and ranked them by their 2022 net worth, calculated using a proprietary formula.
More From 100.5 FM The River