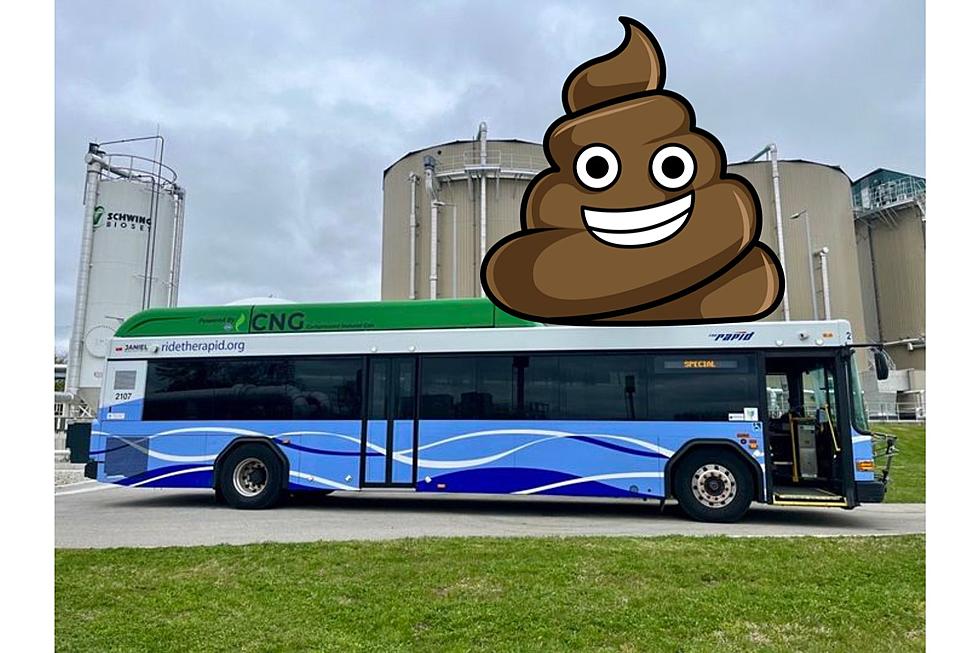 Are The Rapid City Buses Running on Poop Gas? In A Way, Yes!
The Rapid/Facebook
You know The Rapids buses that you see running passengers around the metro area with the green top with a CNG  logo on them. Every wonder what it meant? Well, the answer is that the buses are running on a form of natural gas. That gas is produced at the Grand Rapids biodigester plant. That's the plant where they collect all the, okay poop and stuff, waste, and through the biodigester convert it into methane gas. So you could say our buses are running on poo!
Okay, I know this sounds hilarious but this actually is really cool stuff, and the carbon footprint of The Rapid buses is greatly reduced.
In a story from WOOD TV 8, the Rapid reported that the methane renewable natural gas is Environmental Protection Agency certified, considered to be carbon negative and produces the lowest carbon intensity of any on-road vehicle fuel.
This all comes from the Grand Rapids Water Resource Recovery Facility along Market Avenue SW. The methane is converted into vehicle fuel, and sold to The Rapid to power the buses. How cool is that! We're using our own natural resources, okay, poop, and reusing the byproduct of it all. And, it doesn't have to be shipped off to a landfill.
Some may wonder why not just convert The Rapid buses into EV vehicles. At this time it would be incredibly expensive. Rapid COO Steve Schipper said in a news release:
"We continue to explore a pathway to a zero-emissions fleet, but the advantage of (renewable natural gas) is that we can put it to work in our buses right now. We don't need to wait to start improving our environment and community."
So, right now, out of the current 133 buses, 102 can run entirely on renewable natural gases. In an effort to reach zero emissions by 2035, The Rapid said it would replace its diesel buses with ones that run on renewable natural gas as soon as possible.
Keep eating those tacos baby!
LOOK: See how much gasoline cost the year you started driving
To find out more about how has the price of gas changed throughout the years, Stacker ran the numbers on the cost of a gallon of gasoline for each of the last 84 years. Using
data from the Bureau of Labor Statistics
(released in April 2020), we analyzed the average price for a gallon of unleaded regular gasoline from 1976 to 2020 along with the Consumer Price Index (CPI) for unleaded regular gasoline from 1937 to 1976, including the absolute and inflation-adjusted prices for each year.
Read on to explore the cost of gas over time and rediscover just how much a gallon was when you first started driving.
More From 100.5 FM The River