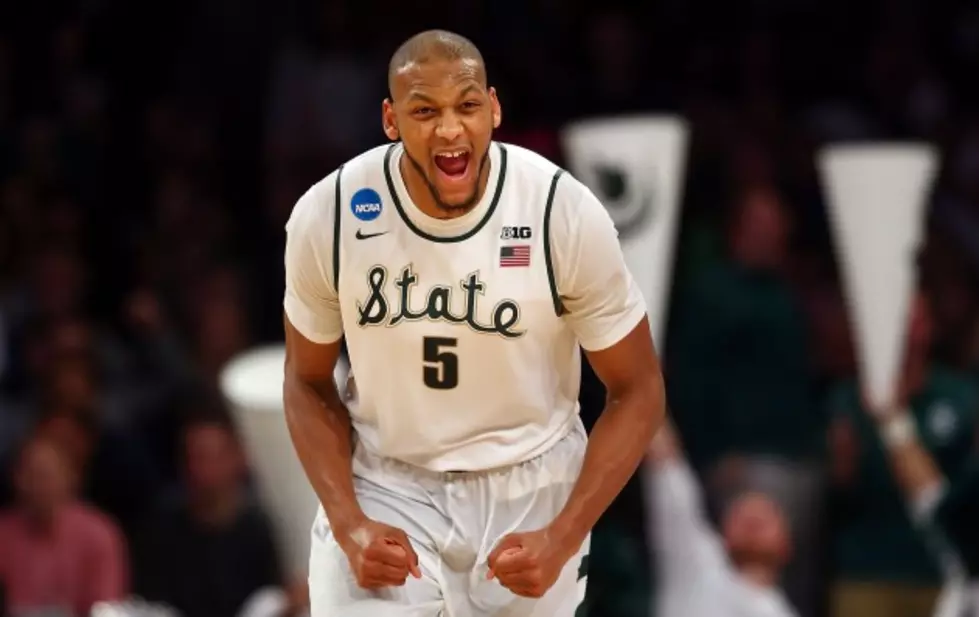 NCAA Tournament: Final Four Quest Ends for Michigan and Michigan State
Michigan State's Adreian Payne reacts after a second-half basket in the NCAA Division I Men's Basketball Tournament's East Region final against Connecticut on Sunday at Madison Square Garden in New York. (Photo: Elsa/Getty Images)
The NCAA Division I Men's Basketball Tournament ended tantalizingly short of the Final Four for both Michigan State and Michigan on Sunday.
Second-seeded Michigan fell 75-72 to eighth-seeded Kentucky in the Midwest Region final in Indianapolis.
Fourth-seeded Michigan State lost 60-54 to seventh-seeded Connecticut in the East Region final in New York.
The regional results left the Big Ten Conference with just one team reaching the Final Four in Arlington, Texas, next weekend: Wisconsin.
Midwest Region
Kentucky 75, Michigan 72
Aaron Harrison's three-pointer with 2.6 seconds left meant the difference for the Wildcats (28-10) against the Wolverines.
Michigan had tied the game at 72 on Jordan Morgan's layup with 27 seconds remaining. That left it to Harrison's trey -- his third in the game's last five minutes -- to lift Kentucky.
Michigan led by 10 points early in the first half, but the Wildcats tied it 37-37 on Julius Randle's jumper just before halftime.
Randle had 16 points and 11 rebounds to lead Kentucky, a preseason No. 1 from the Southeastern Conference.
Nik Stauskas had 24 points for the Wolverines (28-9), who won the Big Ten Conference's regular-season title.
Kentucky plays Wisconsin on Saturday in Arlington, Texas, in the Final Four semis.
East Region
Connecticut 60, Michigan State 54
Shabazz Napier's 25 points led the Huskies past the Spartans.
After Connecticut started off the game with a 12-2 run, Michigan State rallied to hold a 25-21 lead at halftime. The Spartans held the lead well into the second half until a 23-7 Huskies' spurt allowed them to regain control of the game.
Gary Harris scored 22 points in a losing effort for Michigan State (29-9), which won the Big Ten Conference tournament title.
Connecticut (30-8), of the American Athletic Conference, plays top-seeded Florida, the SEC regular-season and tournament champion, on Saturday in the NCAA Final Four semis. Florida's last loss was to Connecticut in December.
More From 100.5 FM The River