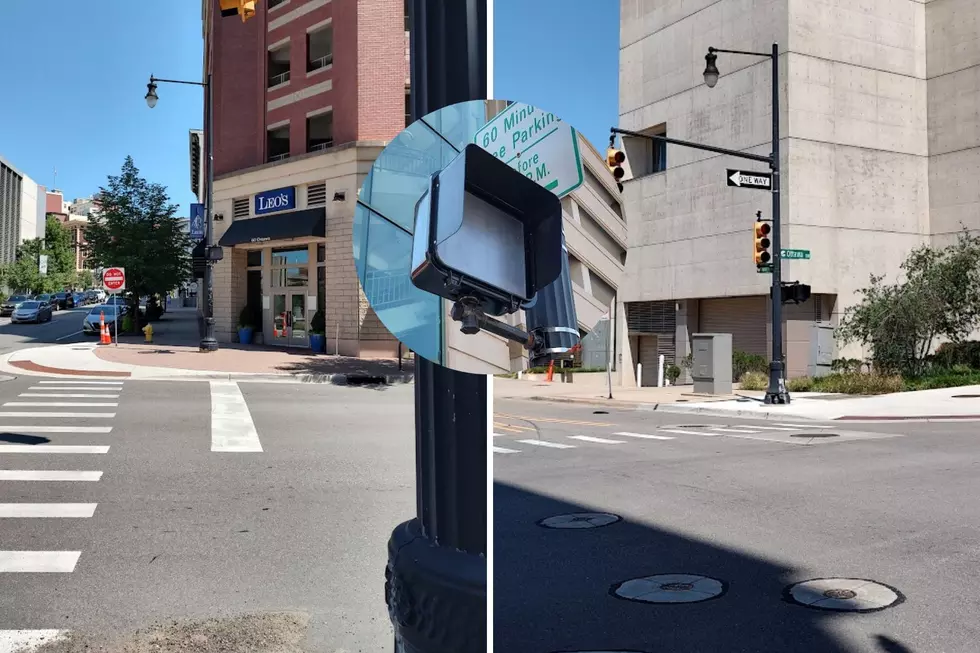 Why Are The Traffic Lights Still Blinking Red In Downtown Grand Rapids?
Ken Evans/TSM
Anyone who's been to downtown Grand Rapids for an event lately might have noticed what appears to be a holdover from the pandemic, darkened crosswalk signals & blinking traffic signals.
Why are there blinking red lights in Grand Rapids?
Back during the heyday (is that okay to say about the pandemic?) of Covid, downtown Grand Rapids saw itself become nearly deserted overnight as the thousands of daily commuters dwindled to the hundreds.
Presumably, around that time, the city decided to convert many of it's downtown signals to 'overnight' mode, blinking red lights that indicate a four-way stop for vehicles and crosswalk signals out of service that presumably give walkers the right-of-way in the intersection.
Why are the crosswalk signals in downtown Grand Rapids shut off?
With less vehicle and foot traffic downtown during much of 2020 & 2021, it likely made sense for the city to simply convert most of its intersections to 4 way stops. In fact, when I returned to work in Downtown Grand Rapids in April of 2021, the only traffic I saw was at DeVos Place during the initial vaccine clinics.
But now on weekends and event nights you can find traffic snarled around Van Andel Arena and pedestrians unsure when to 'go' without the assistance of police or trust that a multi-ton vehicle driver knows that you have the right of way.
Just outside our office, we found two blinking reds and no crossing signals on Louis St. at both Ionia & Ottawa Avenues, just a block from the arena.
Is the city of Grand Rapids keeping four-way stops downtown?
While you might have run into a blinking red light or had trouble crossing without a pedestrian signal lately, it doesn't seem like a permanent change from the City of Grand Rapids.
In a recent social media post, they even reminded residents to report intersections with flashing lights to the city's 311 system:
Our traffic signals do great work every day (thanks to amazing work from City of Grand Rapids staff!) But no signal is perfect, if you notice a traffic signal isn't working report it...
How do you report a blinking or out-of-service traffic light in Grand Rapids?
Here are the steps from Grand Rapids Transportation:
Take note of the traffic signal location. We'll ask you for the traffic signal location. It helps to have an address close to the traffic signal.
Give us a call. Call 311 or 616-456-3000. Is this an issue with a red, yellow, or green traffic signal problem? Call us right away -- this is an emergency. If you're calling after 5:00 pm, we still want to know right away.
Listen to the prompts. If you're calling during business hours Monday – Friday 8 am to 5 pm, stay on the line for the next agent. If you're calling outside of business hours, press 2. Wait until you hear lights, signs, and signal emergencies and press 2 again.
Report the outage. Let us know about the outage and the traffic signal location.
A Sneak Peek at Van Gogh: The Immersive Experience
I had the pleasure of going to Van Gogh: The Immersive Experience when it came to Detroit. Now, it's available to experience in Grand Rapids, and I wholeheartedly recommend it. It was an experience like no other. It allowed you to feel as if you were in Van Gogh's paintings. You're surrounded by them on such a large scale. And if you haven't seen a lot of his works before, this is an excellent opportunity to do so. Check out a little bit about what you can expect from this experience in the gallery below.
10 Michigan License Plates That Haven't Been Claimed Yet
More From 100.5 FM The River