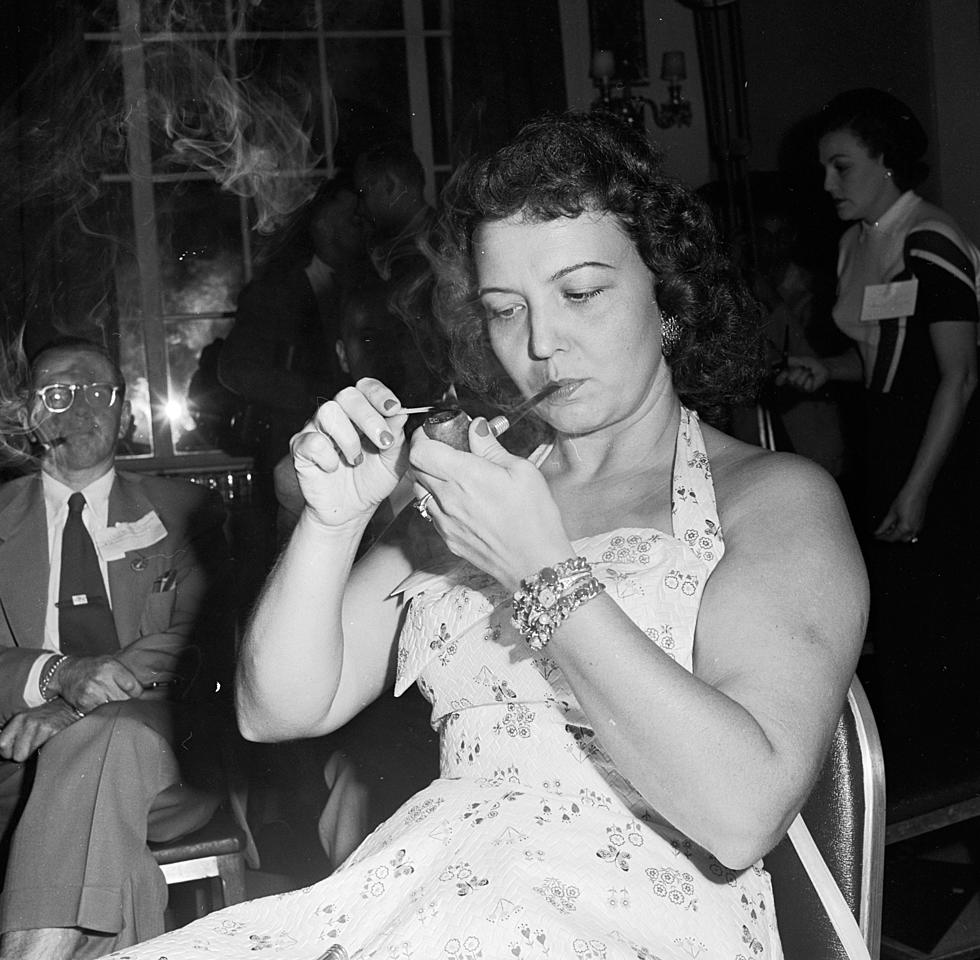 This Michigan Woman Was Once a National Champion Pipe Smoker – Wait, What?
Getty Images
Sure, you know the '84 Tigers World Series champions or the '97 Michigan College Football National Champions. But you've never heard of Jessie Rudle, Michigan's National Pipe Smoking champion.
Rudle was from Flint and competed in the 1954 Pipe Smoking Championships.
An article that appeared in the Battle Creek Enquirer on August 16, 1954 reports on the outcome of the International Pipe Smokers Club championship.
Jessie Rudel kept her pipe (filled with 3.3 grams of tobacco) going 55 minutes to take top honors In the women's division. Twenty-five contestants were entered in the contest at the club's annual convention.
The photo leading this article is of Jesse. The caption reads, "circa 1950: Jessie Rudle of Flint, Michigan, winner of the women's division of a pipe smoking contest, lighting up."
Flint Is the World Headquarters of Pipe Smoking?
The International Association of Pipe Smokers Clubs still exists and it's been holding championships since 1949.
Not only is the IAPSC based in Flint (inside Paul's Pipe Shop if you want to visit) but many of the world champions have come from Michigan, cities like Flint, Burton, Saginaw, Swartz Creek and Lansing.
Paul's Pipe Shop boasts they are purveyors of the "Largest Collection of Pipes in Michigan" and are actively in business along the elegantly brick-paved Saginaw Street in downtown Flint.
How Do You Win a Pipe Smoking National Championship?
Knowing that respiratory athletes gather annually for a pipe smoking championship, may make you wonder just what in the Wide Wide World of Sports is happening and just how one wins a Golden Pipe (if that's not a real trophy, it should be).
It's all about smoking duration. How long can you keep your pipe going? There's likely technique when it comes to how often to puff and how you can retard the burn of the tobacco without extinguishing the fire.
As of the 2023 championships, the winning time was 1 hour and 32 minutes. Recent high marks have been in the 1 hour 40 minute range. The record time dates back to 1975 when William Vargo, a Swartz Creek resident, kept the puff up for 2 hours and 6 minutes.
Congratulations ladies and gentlemen but we're not sure if this article should conclude with an Olympic salute or a Surgeon General's warning.
LOOK: 50 images of winning moments from sports history
Sometimes images are the best way to honor the figures we've lost. When tragedy swiftly reminds us that sports are far from the most consequential thing in life, we can still look back on an athlete's winning moment that felt larger than life, remaining grateful for their sacrifice on the court and bringing joy to millions.
Read on to explore the full collection of 50 images Stacker compiled showcasing various iconic winning moments in sports history. Covering achievements from a multitude of sports, these images represent stunning personal achievements, team championships, and athletic perseverance.
Gallery Credit: Peter Richman
More From 100.5 FM The River