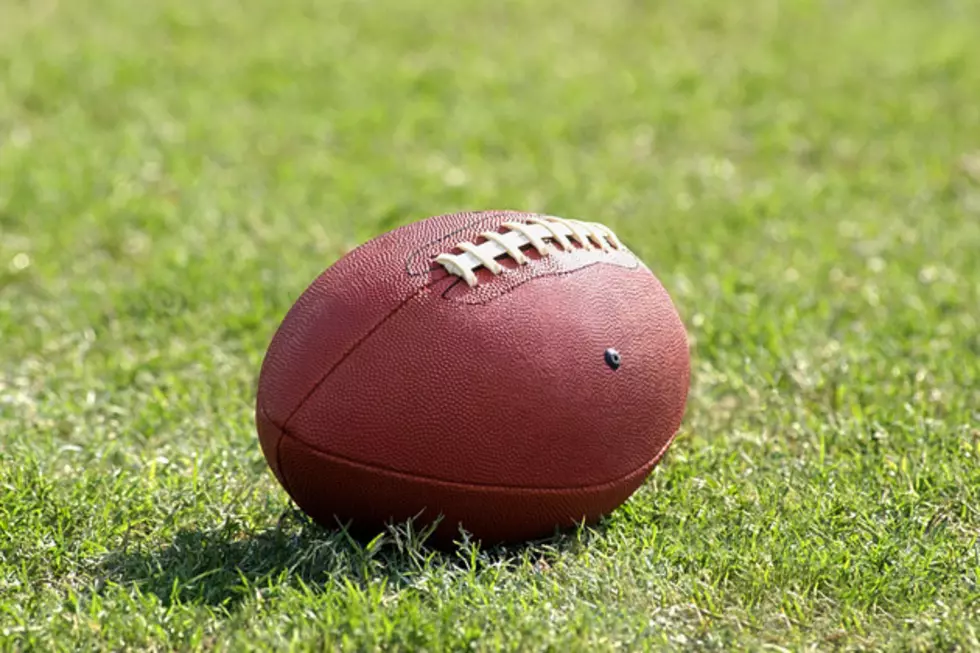 Michigan High School Football Quarterfinals Schedule
Thinkstock
The Michigan high school football playoffs head to the quarterfinals this weekend and West Michigan has a number of schools still in the hunt for a state championship.
This weekend's most intriguing matchups include a pair of games featuring West Michigan schools battling each other.
In Division 2, Forest Hills Central travels to Lowell to face the divison's last unbeaten team. The two teams met in Lowell on October 7 with Lowell earning a 41-37 win.
In Division 3, Byron Center takes their high-powered offense to Muskegon where they suffered their only loss this season 49-14 on September 16. Byron Center has scored at least 40 points in each of their last six games. Muskegon has only given up more than 17 points once this season.
DIVISION 1
Grandville

(10-1)

98.333 at

Detroit Catholic Central

(11-0)

115.794

Saturday 1PM

Romeo

(8-3)

80.000 at

Clarkston

(9-2)

90.889

Friday 7PM

Detroit Cass Tech

(11-0)

99.556 at

Saline

(11-0)

115.048

Friday 7PM

Southfield Arts & Technology

(8-3)

78.333 at

Utica Eisenhower

(11-0)

115.556

Friday 7PM
DIVISION 2
Forest Hills Central 

(9-2)

79.556 at

Lowell 

(11-0)

114.667

Friday 7PM

Fenton 

(9-2)

87.222 at

Walled Lake Western 

(10-1)

109.444

Saturday Noon

Temperance Bedford 

(9-2)

79.111 at

Detroit Martin Luther King 

(9-2)

83.556

Saturday 3PM

Grosse Pointe South 

(8-3)

76.556 at

Birmingham Groves 

(10-1)

101.333

Friday 7PM
DIVISION 3
Byron Center 

(10-1)

96.778 at

Muskegon 

(10-1)

98.556

Friday 7PM

Edwardsburg 

(11-0)

97.778 at

Chelsea 

(11-0)

102.889

Friday 7PM

Orchard Lake St Mary's 

(7-4)

67.000 at

DeWitt 

(10-1)

102.000

Friday 7PM
Dearborn Divine Child 

(9-2)

72.794 at

Allen Park 

(11-0)

112.000

Friday 7PM
DIVISION 4
Escanaba 

(9-2)

75.111 at GR Catholic Central 

(10-1)

88.667

Saturday 1PM
Lake Odessa Lakewood 

(10-1)

79.444 at

Unity Christian 

(9-2)

82.222

@ Jenison HS

Friday 7PM
Corunna 

(9-2)

65.444 at

Detroit Country Day 

(11-0)

102.000

Saturday 1PM
Adrian 

(7-4)

53.556 at

River Rouge 

(10-1)

80.000

Friday 7PM
DIVISION 5
Menominee 

(10-1)

87.000 at

Reed City 

(11-0)

91.556

Saturday 5PM

Frankenmuth 

(10-1)

83.556 at

Ithaca 

(11-0)

91.556

Saturday 1PM
West Catholic 

(9-2)

70.667 at

Berrien Springs 

(8-2)

72.556

Saturday 4PM

Ida 

(10-1)

79.000 at

Algonac 

(10-1)

81.667

Friday 7PM
DIVISION 6
Maple City Glen Lake 

(9-2)

58.667 at

Calumet 

(10-1)

73.778

Saturday 1PM
Leroy Pine River 

(8-3)

56.847 at

Ravenna 

(9-2)

69.000

Saturday 1PM
Detroit Central Collegiate 

(7-4)

47.667 at

Millington 

(10-1)

80.511

Friday 7PM
Napoleon 

(9-2)

61.889 at

Jackson Lumen Christi 

(9-2)

75.111

Saturday 1PM
DIVISION 7
Pewamo-Westphalia 

(11-0)

78.222 at

Traverse City St Francis 

(11-0)

89.778

Saturday 1PM
Ubly 

(11-0)

74.667 at

New Lothrop 

(10-1)

76.222

@ Chesaning HS

Saturday 1PM
Concord 

(9-2)

58.222 at

Cassopolis 

(10-1)

69.611

@ Decatur HS

Friday 7PM
Detroit Loyola 

(9-2)

74.889 at

Hudson 

(10-1)

79.444

Friday 7PM
DIVISION 8
Norway

(9-2)

58.778 at

St Ignace

(10-1)

68.778

Saturday 1PM

Frankfort

(11-0)

74.667 at

Muskegon Catholic Central

(11-0)

94.222

Saturday 1PM
Royal Oak Shrine Catholic

(9-2)

57.778 at

Saginaw Michigan Lutheran Seminary

(9-2)

69.889

Saturday 3PM

Climax-Scotts

(11-0)

66.111 at

Ottawa Lake Whiteford

(11-0)

79.111

 Friday 7PM
More From 100.5 FM The River