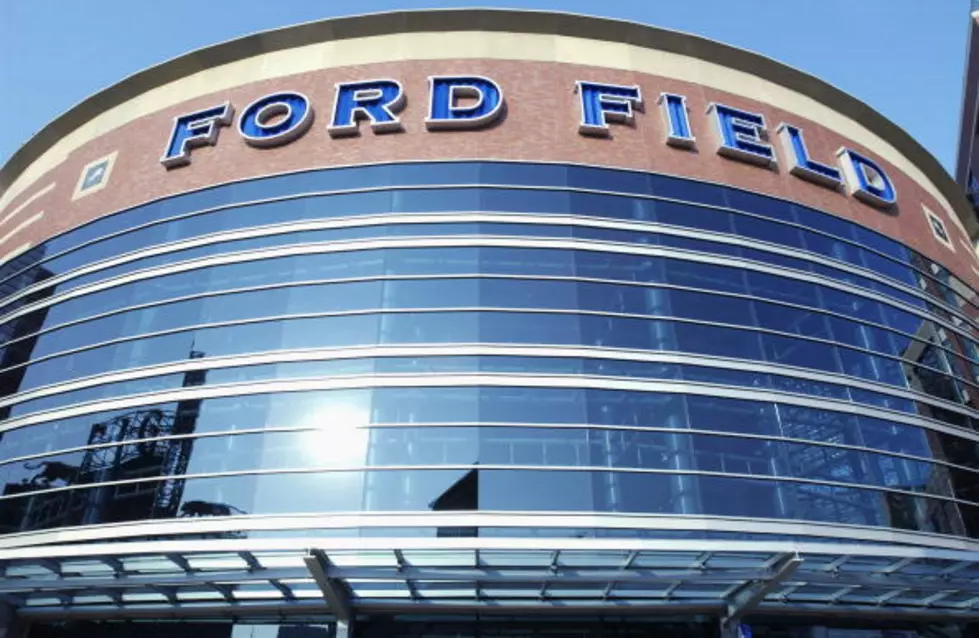 Michigan High School Football Finals – Schedule, Tickets, Parking, TV and More
Darron R. Silva, Getty Images
Lowell, Zeeland West, West Catholic and Muskegon Catholic Central will play for a football state championship at Ford Field in Detroit this weekend!
View the schedule, get ticket information, see where to watch on TV, and more.
Friday, November 27

Division 8 - 10AM - Muskegon Catholic Central (10-2) vs Waterford Our Lady (13-0)
Division 2 - 1PM - Lowell (12-1) vs Detroit Martin Luther King (13-0)
Division 6 - 4:30PM - Ithaca (13-0) vs Clinton (13-0)
Division 4 - 7:30PM - Zeeland West (13-0) vs Flint Powers Catholic (11-2)
Saturday, November 28

Division 7 - 10AM - Ishpeming (12-0) vs Pewamo-Westphalia (13-0)
Division 1 - 1PM - Romeo (12-1) vs. Detroit Cass Tech (11-2)
Division 5 - 4:30PM - West Catholic (11-2) vs River Rouge (12-1)
Division 3 - 7:30PM - Orchard Lake St Mary's (11-1) vs Chelsea (12-1)
Parking
Parking will be available in Ford Field facilities and lots to the east and north of the stadium and cost $6. Other privately-owned parking lots will also be available.
Tickets
Gates A, B and G will be available for the public. Ticket sales will begin near Gates A and G at 8AM each day. The building will open its doors to spectators at 9AM.
Tickets are $10 and allow fans to see all four games in a single day. Spectators leaving the stadium will be required to purchase another ticket for re-entry. Children under the age of 2 will be admitted for free.
Where to Sit
Fans will find their designated seating areas on the South side of the field if their team is the designated home team and on the North side for the designated visiting team.
All West Michigan schools are home teams this weekend. The full list of home teams includes: Muskegon Catholic Central, Lowell, Ithaca, Zeeland West, Ishpeming, Romeo, West Catholic and Orchard Lake St. Mary's. Video boards above the seating areas will display the names of the participating teams each day. Fans should sit on the side of the stadium where they see their school's name.
Tailgating
Tailgating, including the setting up and use of grilling equipment, and the consumption of alcohol, is prohibited in Ford Field parking facilities and lots.
Allowed/Prohibited Items
Fans will be subject to a visual search, and Ford Field personnel reserve the right to request patrons open their coats, bags and other item-carrying vessels for visual inspection and deny entrance to individuals who do not cooperate.
Items which fans will be prohibited from bringing into the building include, but are not limited to, the following:
Purses larger than a clutch bag, coolers, briefcases, backpacks, cinch bags, grocery & paper bags, duffle bags, luggage of any kind, computer and camera bags and large camera cases.
Aerosol cans (hairspray, mace, pepper spray, etc.)
Animals (except service animals to aid guests with disabilities)
Balloons (air or helium)
Balls (beach balls, footballs, etc.)
Banners or large flags
Cameras with lenses longer than five inches. Selfie Sticks also are prohibited.
Decals, stickers, confetti or glitter
Electronic equipment including laptop computers, video recorders (hand-held video cameras are allowed), tripods and wearable video cameras including Go Pros.
Fireworks
Food, beverages or liquids (cans, bottles, boxes, flasks, etc.)
Illegal substances
Knives, pocket knives, box cutters, scissors, etc.
Laser pointers
Markers (permanent) and/or paint
Noisemaking devices (bells, horns, kazoos, whistles, etc.)
Objects that can be used as missiles or projectiles (sticks, bats, clubs, Frisbees, etc.)
Seat cushions
Strollers and infant car seats or carriers
Umbrellas (large size)
Weapons
The following items will be permitted after inspection:
Small bags, purses and fanny packs that do not exceed 8½ inches by 14 inches by 10 inches. An exception will be made for medically necessary items after proper inspection at a gate designated for this purpose.
Diaper bags (only if accompanied by a child)
Binoculars and binoculars cases
Cameras and small camera cases (lenses may not measure longer than five inches)
Small radios (no larger than the size of a football and used with an earpiece)
Small hand-held video cameras (but no tripods or extension cords)
Small, compact umbrellas (must be placed securely under seat)
Posters and signs without poles or sticks, or larger than what one person can hold.
Watching on TV
All games except Zeeland West vs Flint Powers Catholic will air live on FOX Sports Detroit. The Zeeland West vs Flint Powers Catholic game will be streamed live and available on FOX Sports Go. The game will air on FOX Sports Detroit on Friday at 11:30PM.
More From 100.5 FM The River