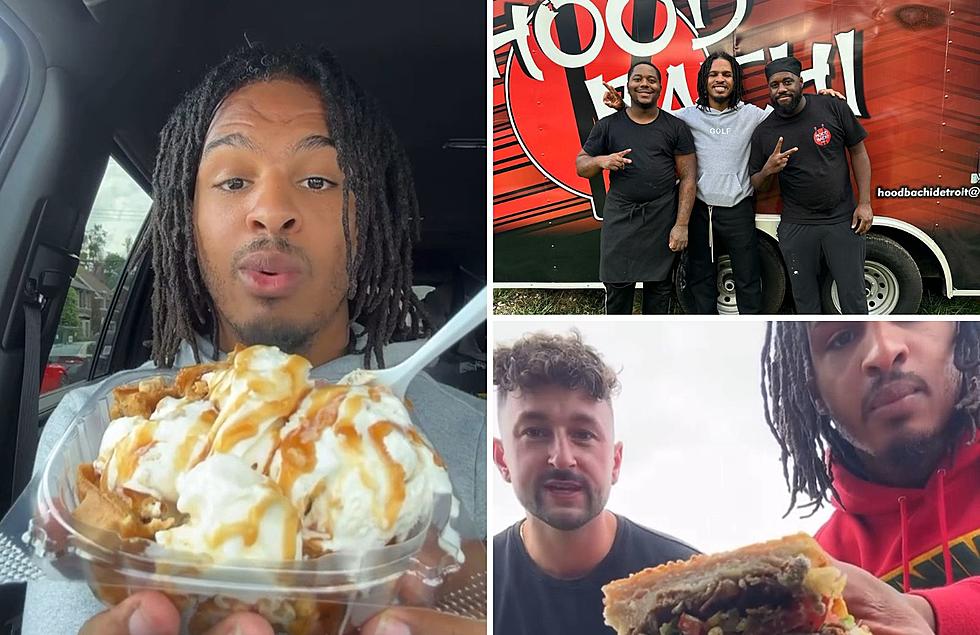 TikTok Star Keith Lee's Guide To What To Eat in Detroit
Keith Lee on TikTok / Hoodbachi Food Truck on Instagram
TikTok star Keith Lee had a humble start when he joined TikTok to share his opinions on some little known restaurants in his home city of Las Vegas.
But, people loved how down to earth and honest it was, and it gained him one of the biggest followings on the app.
Flash forward to 13 million followers later. Now, when he reviews a restaurant he can take a place getting no orders into being the hottest spot in town. And while he's been doing this for his hometown, he's started to take his reviews on the road.
His second stop on his "food review tour" brought him to Michigan, where he took on some of Detroit's best and little known spots to see how he felt about them.
Where did Keith Lee eat while in Detroit?
As soon as he landed, he did the most Michigan thing possible and stopped at a coney for a late night bite. And instead of hitting the obvious options downtown, he gave Speedy's Coney Island a taste.
He skipped the coney dog on his trip, which may have been a mistake. But, he did give some other things on their menu a try, and ended up giving them a 5/10 review. Not great, but not as harsh as he could have been.
Next, he said he received a message from The Spot Truk, who invited him to come out and try what they had to offer. So, he took them up on it, and he was pretty impressed.
After giving them a 9.5 out of 10, I'm not going to lie- this one sounds like a must try the next time I'm in the D. Especially that turbo sauce that left his wife speechless.
Keith's next stop was a spot that I keep seeing on my For You Page called Whatcha Wanna Eat Food Hall. This black owned food court looks like it's full of some amazing options.
He tried options from several of the vendors, to be fair, starting off with an amazing apple pie waffle ice cream dessert from Life is Sweetz. And after one bite, he almost falls over it's so good, so you know it's worth the trip, and he gave it a 8.5/10.
He then he moves on to try a few other items including 3 burgers from Crazy Burger which he gave his highest rating of the day, a 9.5/10.
His next spot had him meeting up with another iconic Detroit TikTok star, MD Motivator who goes around blessing people in and around Detroit. They made a stop over the Detroit 75 Kitchen to see if it's worth the money.
Before their review, they paid for everyone's meals, then blessed some of the staff with money. Next, they dug into a few sandwiches, giving them a 8.5 and 9/10 respectively.
And his final stop was at an already popular food truck that is run by another Detroit legend, T Grizzley, called Hoodbachi. I've wanted to try this place for awhile, and he seemed to agree it's worth the hype.
He admitted this one didn't need his help, but it was so good that he had to do it anyway. After taking down a bowl he ended up giving them a 9.3/10
He was pretty generous with most of the ratings he gave, which is just another reminder that Detroit has one of the best local food scenes in America even if they don't get the credit for it.
And if you decide to try any of these out for yourself soon, don't forget about the Keith Lee effect and expect a small wait. But, here's hoping for more success for these great business owners thanks to the kindness of Keith.
New West Michigan Restaurants 2023
More than 20
new restaurants
, including authentic Mexican eateries, breakfast joints, pizza places, and Boba shops have opened so far in West Michigan in 2023.
How many have you been to?
More From 100.5 FM The River