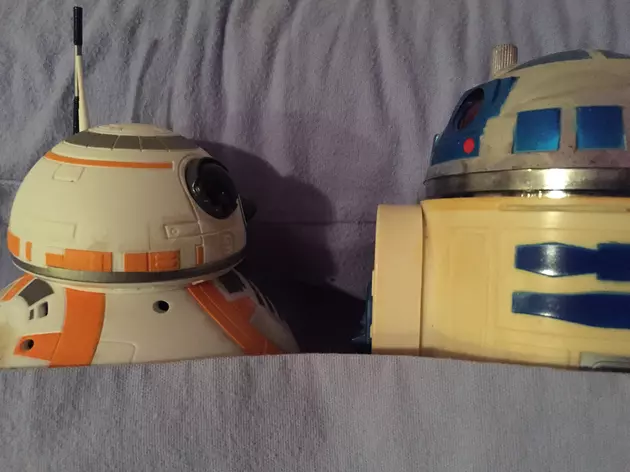 BB-8 and R2-D2 are Best Friends in 'My Two Droids' [Video]
Matt Milhouse, Townsquare Media
Star Wars: The Force Awakens been a tremendous success partly due to the popularity of BB-8, although some still favor R2-D2.
Lucky for us, BB-8 and R2-D2 are together again in a new buddy sitcom named My Two Droids.
My kids got a few Star Wars items for Christmas this year, including the remote control Hasbro BB-8.
It was the perfect time to get out my still-mostly-functional 1978 Kenner Toys remote control R2-D2. R2-D2 still lights up and makes noise. His head moves too, but he doesn't move around on his own anymore.
The bottom of R2-D2 still has its original warning sticker.
Apparently people had no idea how to handle electronics when Star Wars toys were first introduced. Who can blame them since the inside of R2-D2 (look away if you have a weak stomach) takes one 9V battery and two C batteries?
Did they run out of room? It's an odd combo of batteries, but the end result is amazing.
More From 100.5 FM The River