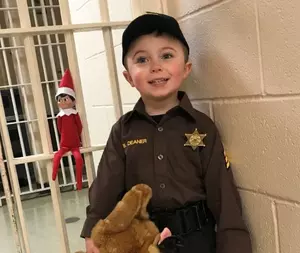 Fugitive Elf on the Shelf Arrested in Kalamazoo by Special Deputy
Kalamazoo County Sheriff's Office via Facebook
A wanted Christmas criminal has been arrested in Kalamazoo thanks to the efforts of a young deputy.
On December 10, Kalamazoo County Sheriff's Office put out an APB on a festive fugitive- Evans the Elf. Described as 13" tall and weighing a few ounces, the cheerful criminal was wanted on a raft of charges including home invasion, trespassing and loitering.
Now, thanks to the efforts of a special junior deputy, Christmas has been saved! The Sheriff's office shared the good news on Facebook with play-by-play photos of Deputy Deaner and his plush K-9 companion handcuffing the elf, detaining him in the police cruiser and locking him up behind bars.
It seems this is an annual problem with elfin kind as Wiggle the Elf was caught speeding and arrested by Kalamazoo Department of Public Safety during December of 2017. Let this be a lesson to all- don't end up on the naughty list!
More From 100.5 FM The River